2019 Suzuki Jimny/Jimny Sierra JB74W
Well well well, look what we have here.
Plenty of mods to make it into what I want, and I'll try to give as good a guide to these as I can. I've broken the mods up into individual sections with justifications/how-tos and more info where I can.
Using it
Haven't done too many trips so far, but I did sneak down the southwest of WA for a bit of a beach getaway.
Way too many renovation trips to mention which justifies the use of roof racks.
The dog enjoys driving, does not enjoy the slippery plastic on the back of the rear seats folded down and kinda is a bit tall. He's an idiot though.

Modifying it
Suspension/wheels/tyres
2″ JimnyBits/Black Raptor lift kit
Added a few extra things such as headlight aiming module relocation bracket, longer front brake hoses and extended lower rear shock mounts: fitting this DIY will come when I get around to it. Will probably need to machine up my own front spring spacers to help with the load of the bullbar and winch but I'll get around to that, promise.
Swapped out the standard wheels and tyres for BFGoodrich All-Terrain KO2s in 215/75-15, and wheels for black steel 15×6″ wheels, +3 offset, 5×139.7 PCD. To help people who might be interested I've expanded a bit on this swap at this link.
Protection, towing and load carrying
ARB bullbar and rock sliders
I didn't fit these myself so no point DIYing it. I really like the bar and I think it really suits the car, and they did a great job matching the paint to the wheel flares and similar. Other people like some of the features of the other bars e.g. the AFN bar or the price of the Ironman man. I'm happy enough. The rock sliders work great, I hate sill damage on 4wds and I think they're a must on anything. Very solid, though note they're only good as sliders: don't expect to use them as running boards to help get access to the roof.
Hayman Reese towbar with factory electrical harness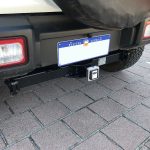 Factory bar really ruins departure angle, the best option (in Australia) appears to be the Hayman Reese bar with the removable tongue. Great to use as a rear recovery point too! I did the wiring install myself, so read more on the towbar and the wiring harness.
Roof racks and other load carrying
The roof load limit on the Jimny is pretty low (30 kg max) but it's handy to be able to take long stuff. I can't justify a roof platform at the moment, but I did get some Rhino Vortex roof bars as they have great accessories, are very aerodynamic and super quick to install and remove. As an added benefit they're only 3 kg total so you can still fit a few things to the roof.
Rear ladder as a carrier
Another part that helps is adding the dodgy ebay aluminium ladders for the back as a way to hold recovery boards and stuff. I bought a cheap Chinese aluminium ladder that clamps onto the top and the bottom of the rear door as a way of simply holding my maxtrax. I'll probably weld something that has better mounts sometime but this does for now!
Recovery
Winch
Recovery boards
Bling
Front grille
Kakimoto GTbox 06&s exhaust (catback)
Mudguards
Electrical improvements
UHF radio and antenna
Driving lights
Interior switches: what fits where
Switches get bitches.
Here's the lowdown on what fits where to let you add OE style switches to the dashboard or centre console of your Jimny. Also useful dimensional info for other brands too, I guess.
Interior niceities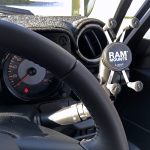 Factory rear rubber mat
Dashboard carpet mat
Rubber versus carpet mats
Extended rear door strut for more opening