Jimny Servicing
Servicing is a fairly fundamental part of keeping a car running happily. If you use your Jimny for intensive 4wding then you might want to consider DIY servicing even between workshop servicing just to keep everything happy. As I tackle more of the servicing items I'll cover them here. Some might get split off onto their own page if they are detailed (e.g. the valve clearance check and change if I ever get around to doing this myself) but otherwise I'll keep this as a big reference page for people.
I appreciate some input into this section from Royce Murphy, Trinity Vitetta and Jordan Rath in the various Jimny groups on FB.
Looking for torque values for bolts? I'm slowly adding to this list.
What about wiring stuff and connectors? This is even more sparse but I'll add details here.
---
Sections
---
Supplies list
Capped price service kits

Kit B

(major service kit)
Engine oil filter, drain plug washer, air filter, cabin air filter, valve cover gasket, 4x spark plugs
99999-SER55-BS1, includes
1x 16510-82703, 1x 09168-14015, 1x 13780-78R00, 1x 95860-74P00, 1x 11189-62R10, and 4x 09482-00618
Engine oil service
Engine oil
3.9L
0W-20 or 5W-30

Engine oil filter
Suzuki 16510-82703
Ryco Z443
Sakura C1218
Mann W 67/2
Engine sump plug washer

M14 (09168-14015)

Filters
Air filter
Suzuki 13780-78R00
Ryco A2021
Westfil WA5540
Cabin filter
Suzuki 95860-74P00
Ryco RCA403P
Westfil WACF0275
K&N 33-3151
Transmission and transfer case



Manual transmission oil
1.2L, GL-4 75W-80
Manual drain and fill plug seal
Liquid thread sealant/Threebond

Automatic transmission
4-5L (refill unknown amount)
Suzuki ATF3317
Automatic transmission drain plug washer
M10 (24781-57B00)

Transfer case oil
1.2L, GL-4 75W-80
Transfer drain and fill plug seal
Liquid thread sealant/Threebond
Differentials
Front differential oil

1.6L, GL-5 75W-85
Rear differential oil
1.3L, GL-5 75W-85
Differential drain plug washers (needed for each)
M12 (09168B12002N000)

Differential fill plug washers (needed for each)
M20 (09168-20003)
Note this part number is a copper washer; thanks to contributor PC for finding out that the older nylon one is superseeded
Spark plugs and valve cover
Spark plugs (4 needed)
NGK KR6A-10 (09482-00618)
Gap 0.95-1.05 mm

Valve cover gasket
(only needed if checking valve clearances)
11189-62R10
Belts
A/C belt
95141-77R10 (some list it as 17521-40724); 4PK725
Water pump belt
17521-78R00 (some list it as 17521-50951); 5PK951 – presumably 5PK950 would work
Brakes (full table in relevant section)
Front brake rotors
Suzuki: 55211-76J02
DBA/RDA: DBA587 (DBA587S for T2 upgraded rotors)

Front brake pads
Suzuki: 55810-78R00
Bendix/RDA (this is for JB43, but appears to fit): DB403

Rear brake shoes
Suzuki: 53200-76J01
DBA: DBAS1764

Clutch
Clutch
Suzuki:
22100-78R00 (pressure plate)
22400-78R00 (friction disc)
6x 01550-0816B or 09117M08096 (pressure plate to flywheel bolts, M8x16)
23265-81A40 (throwout bearing)

Xtreme Outback standard replacement kits:
KSZ19020 (pressure plate, friction, throwout, spigot bearing, alignment tool)
KSZ19520 (as above, with flywheel)

Upgraded clutch options
Xtreme Outback:
KSZ19020-1A (stage 1 upgrade pressure plate, friction disc, throwout, spigot bearing, alignment tool)
KSZ19520-1A (as above, with flywheel)

KSZ19020-1B (stage 2 using sprung ceramic)
KSZ19520-1B (stage 2, with flywheel)

KSZ19020-1C (stage 2 using cushioned ceramic)
KSZ19520-1C (stage 2, with flywheel)

KSZ185232B (multi plate conversion – everything included – for super high HP applications)


Flywheel
Suzuki:
12620-78R00 (flywheel)
12623-71C00L000 or 12623-61J00-000 (input shaft bearing)
6x 09103-10440 (bolts: M10x18.5, with threadlocker)
Wiper blades
Front left and right
Suzuki OEM (complete): 38340-77R10
Suzuki OEM (rubber insert): 38346-77R00
Tridon TBL16
Bosch Aerotwin BBA400
Rear
Suzuki OEM (complete): 38340-77R40
Suzuki OEM (rubber insert): 38346-77R20
Tridon TBL12

Touch-up paint

See article here: paint codes
---
Service intervals
This is relevant for the Australian market, of which there are two service intervals. Cars delivered pre October 2019 were done to a 6 monthly/10,000 km interval, and after this it is 12 monthly/15,000 km interval.
Capped price servicing varies according to delivery month and also if it is a Suzuki Australia delivered car or a Suzuki Queensland delivered car. Official prices are listed on Suzuki Australia's or Suzuki Queensland's websites; I have used these as a guide in late 2023 to try to provide an estimate.
In the following service intervals tables I have underlined things that might make this service more expensive than you expect e.g. diff oil change at the first service, or the spark plugs and valve clearance checks every few years. I have not listed everything you should inspect/adjust in these. Transmission and transfer fluids, diff fluids, and things like the handbrake adjustment should all be inspected along with suspension components, drive belts and similar things.
Suzuki also recommend halving service intervals in 'severe use' conditions, which include offroad use, lots of stop start driving, or driving in dusty or hot conditions.
A number of the fluids are predicated on the type e.g. fully synthetic genuine Suzuki manual transmission or transfer oil, or diff oils, are inspection only, but are replace every 2 or 3 years if not using genuine oils. Green coolant is every 3 years/45,000 km, but blue is 8 years/160,000 km; automatic transmission fluid is also replace every 160,000 km. For your own specific use case and lubricants, you are best off contacting Suzuki to verify exact intervals as it gets problematic fast.
6 monthly servicing
(Total price: $2656 over the 5 years, $531.20/year)
6 months
10,000 km
1 year
20,000 km
1.5 years
30,000 km
2 years
40,000 km
2.5 years
50,000 km
3 years
60,000 km
3.5 years
70,000 km
4 years
80,000 km
4.5 years
90,000 km
5 years
100,000 km
Suzuki Aus pricing
$269
$175
$175
$459
$175
$379
$175
$499
$175
$175
Service items
Engine oil & filter
Replace
Replace
Replace
Replace
Replace
Replace
Replace
Replace
Replace
Replace
Engine air filter
Replace
Replace
Spark plugs

Replace

Replace

Valve clearance

Inspect

Inspect

Brake fluid
Replace
Replace
Manual gearbox oil

Replace

Differential oils

Replace

Cabin filter

Replace
12 monthly servicing
(Total price: pre September 2022 $1655 or $331/year, post September 2022 $2265 or $453/year)
1 year
15,000 km
2 years
30,000 km
3 years
45,000 km
4 years
60,000 km
5 years
75,000 km
Suzuki Aus pricing – pre September 2022
$329
$329
$429
$329
$239
Suzuki Aus pricing – post September 2022
(Includes free wheel rotation woooooo!)
$449
$429
$589
$449
$349
Service items
Engine oil & filter
Replace
Replace
Replace
Replace
Replace
Engine air filter
Replace
Spark plugs

Replace

Valve clearance

Inspect

Brake fluid

Replace

Replace

Transfer fluid
Differential oils
Replace
Cabin filter

Replace
Filter servicing
Air filter change
This one is super easy: unclip the clips on the airbox to lift the lid…
This exposes the filter, swap it out for a new one.
Air filter part numbers
Suzuki OEM: 13780-78R00
Ryco: A2021
K&N reusable: 33-3151
---
Pollen filter
Again this one is easy. Empty the glove box and squeeze in the sides.
This will open the glove box past the normal stops.
Filter hides behind here.
Swap it for a new one.
Pollen filter part numbers
Suzuki OEM: 95860-74P00
Ryco: RCA403P
---
Oil changes
Engine oil
Haven't actually done one of these yet, but a couple of things.
First up: oil specifications.
Viscosity recommendations do vary according to climate and stuff, but for Australia 0W-20 is the preferred one. This is probably for economy; a lot of dealerships seem to go for a 5W-30 which is probably better for hotter conditions.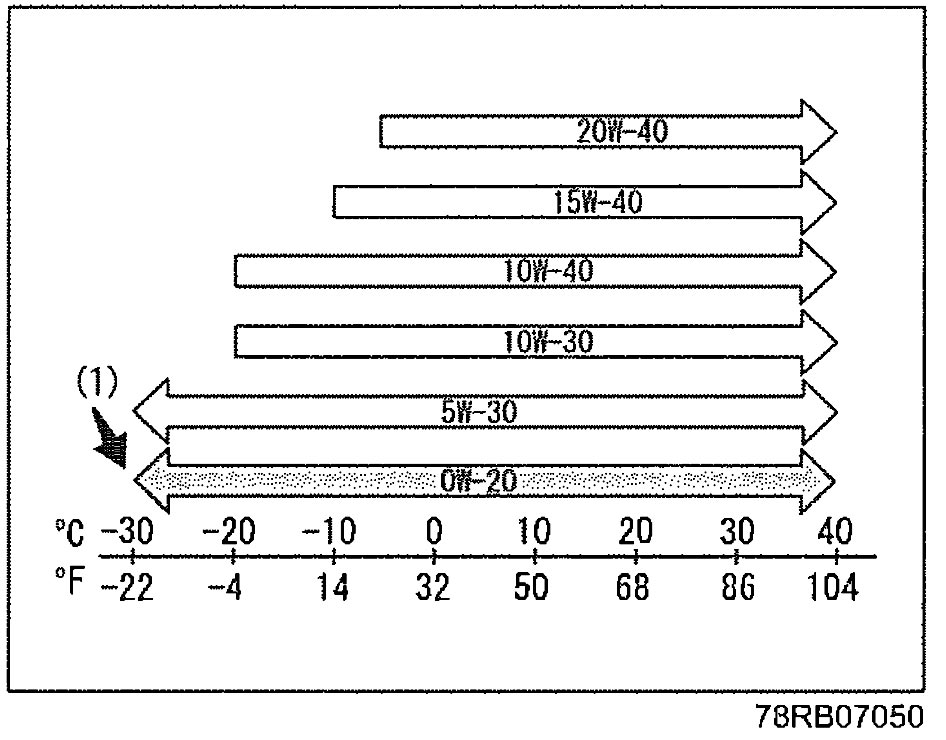 Oil is also meant to meet API SG, SH, SJ, SL, SM, or SN specifications, but no other specific requirements are listed for it. I'd recommend a quality brand synthetic oil.
Next up to consider is the filter and removing and refitting it. On the Jimny the filter is a little trick to access due to how it is recessed into the sump/block. For this task Suzuki recommend an oil filter tool with part number 09915–47341, which is superseeded by part number 09915-40611. This one cross references with a filter removal tool for a lot of Suzuki motorcyles like basically every year of GSX-R1000 etc.
NB this filter removal tool probably does not suit non OEM filters which often have a different tool pattern on them.
I would recommend the following order for the draining:
Drain the engine oil via the sump plug.
Once the sump has drained, clean off the sump plug and fit a new crush washer (M14, Suzuki part number 09168-14015). For security I also add a little liquid teflon thread sealer to the sump plug, too.
Remove the filter and drain the filter and the last of the engine oil via the filter mounting point.
Refit the oil filter by first putting a thin smear of oil on the rubber filter gasket. Make sure there is no old rubber filter gasket on the mating surface on the engine block, and then fit the new filter.
Spin the filter on by hand until it seats against the engine, and then turn it a further 3/4 of a turn using a filter tool.
Refill engine till you have oil between low and high on the dipstick.
Start the car, check for leaks, turn it off after about a minute. Re-check dipstick and top up to somewhere between low and full on the dipstick.
A note on oil capacity. Oil capacity is specified at 3.9L, but this includes about 0.25L for the filter and 0.3L for stuff that probably still is in the engine. Safe option here as I described above is refill to somewhere between low and high on the dipstick and start it up once you've done the filter & check the level after running the engine for a minute or so.
Oil filter part numbers
Suzuki OEM 16510-73002L000
Ryco Z443
Sakura C1218
Mann W 67/2
---
Manual transmission oil change
This is very straightforwards to change. The biggest trick is finding the appropriate oil: Suzuki specify a fully synthetic 75W gear oil of their own type (Suzuki part 99000-22B27-036), but then specify a 75W-80 viscosity. This oil also needs to adhere to GL-4. Penrite recommend a semi-synthetic GL-4 75W-80 oil; I'm trying out using a fully synthetic 75W-85 GL-4 oil with a bit of moly additive (Penrite Shift Eze).
Drain and fill plugs are pretty obvious. 3/8″ square drive (or probably 10mm square tool) for these. They're easiest accessed from the left-hand side of the car from underneath.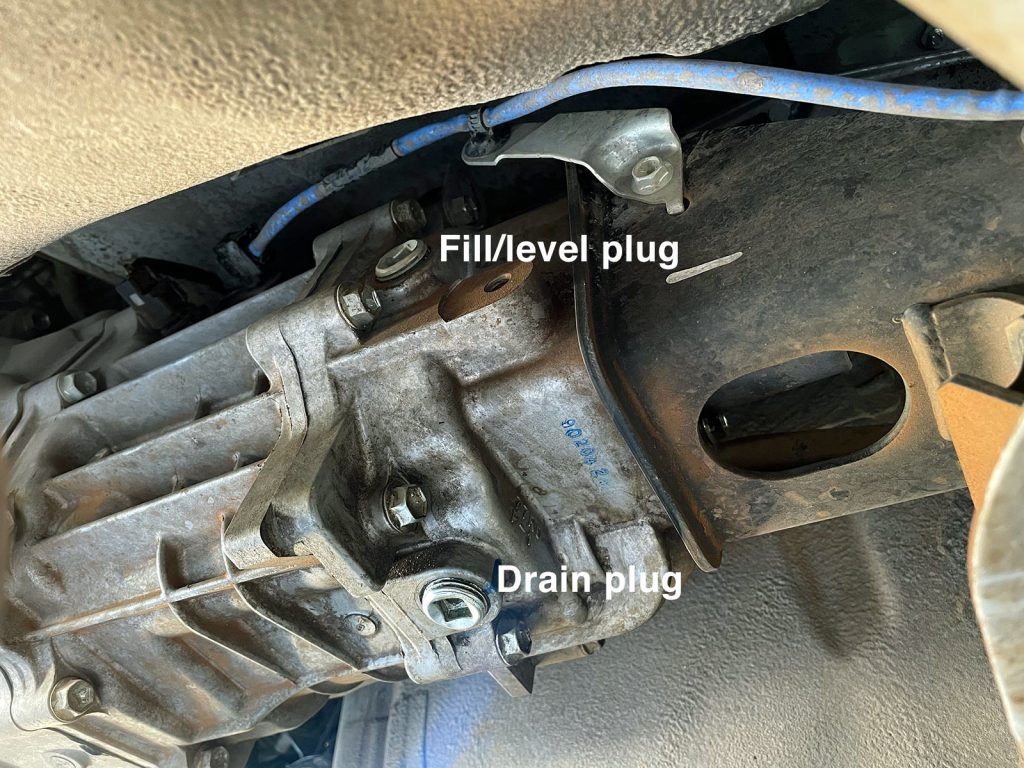 Like any gearbox or differential you should first remove the fill plug to make sure you can get it out. Once you have removed the fill plug then you remove the drain plug and remove it.
Drain plugs on the Jimny transmission, transfer case and differential all have magnets in them to pick up any metal. Large chunks are not good, small bits are pretty common in transmissions and are not an immediate cause for alarm.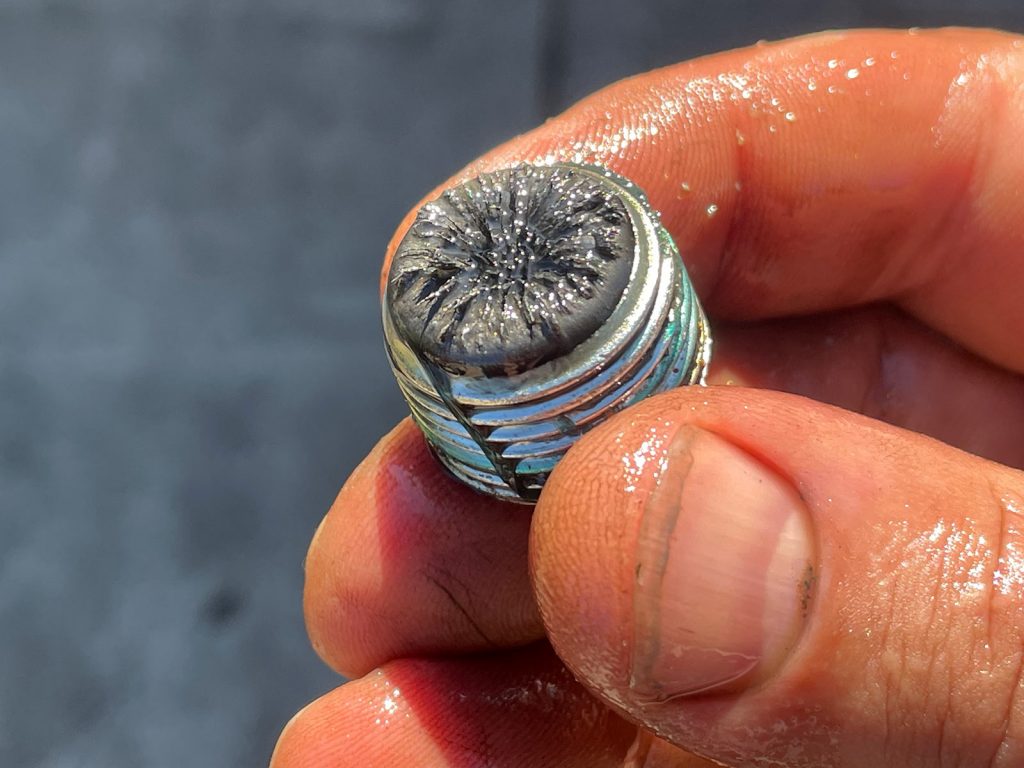 Once you have both plugs removed then either put some Threebond sealant or some liquid teflon thread sealer on them. Plugs are tightened to 23 Nm. When the transmission has drained, reinstall and torque the drain plug.
The manual transmission takes 1.2 L to fill. Fill it up with the car level until the barest amount comes out of the fill point and then reinstall the fill plug & torque it up.
---
Automatic transmission
Since I don't have an automatic I need to speak theoretically here as I'm unlikely to do a change of ATF.
ATF specification is a bit funky and it's hard to know what ATF to put in it. The Suzuki fluid is specified to be ATF3317; as far as I can tell either the genuine fluid, Mobil Multi-Vehicle ATF or Castrol Multi-Vehicle meet this spec. The genuine ATF is probably the safest choice here.
The ATF is drained through the drain plug on the transmission sump.
This drain plug needs a new crush washer (24781-57B00, appears to be M10 aluminium crush washer) and is refitted to a torque of 17 Nm.
The transmission is refilled via the transmission dipstick which is accessed via the engine bay. The ATF capacity is not specified, but ~5.5L is needed for a full transmission rebuild so you'll need a fair bit less than that for just a simple drain of the pan.
To set the level correctly, you need to get the level roughly right and then get the engine up to full operating temperature. With the car level, shift from park to low and back to park again a couple of times, and check the level.
Level should be between LOW HOT and FULL HOT (ideally at the FULL HOT level). It takes a bit under 0.5L to go from low to full hot, in case you're worried about not adding enough. It shouldn't take too much, and overfilling an automatic transmission is in many ways worse for the transmission than a little underfilled.
---
Transfer case
This is also super simple to do, although access is a little trickier to the drain and fill plugs. Access these from the right hand side of the car. Oil specification recommended for this (Suzuki part for the oil is 99000–22B27–036) is the same as the manual transmission except they seem to suggest only a straight 75W GL-4 synthetic gear oil. Again 1.2 L of oil is used to fill it up. Penrite suggest for this one to use the fully synthetic pro-gear 70W-75, which is different from their suggestion for the gearbox.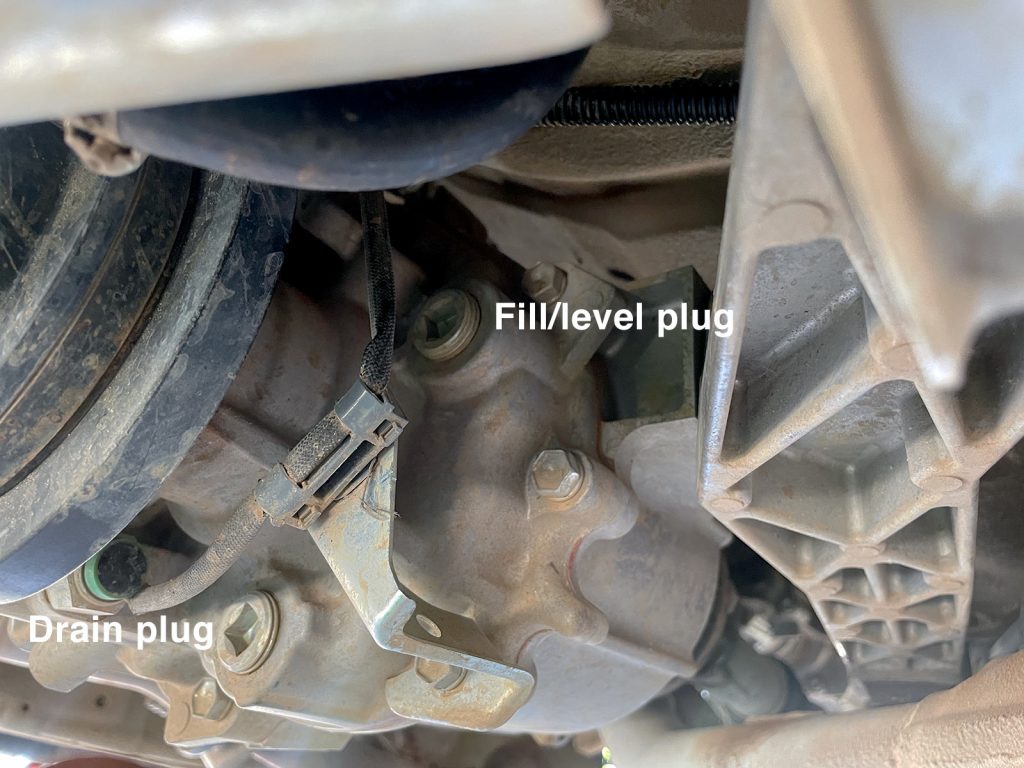 Both drain and fill plugs take a 3/8″ (or 10mm square) square fitting to undo and do up. Remove the fill plug to make sure you can get it off, and then remove the drain plug. I found it ejected fluid a far way from the transfer case so consider your drain pan placement.
Drain and fill plugs both are meant to have some sealant put on them before reinstallation. Suzuki recommend Threebond, but I generally use liquid teflon thread sealer on them.
Once the transfer has fully drained then reinstall the drain plug and refill the transfer case with 1.2L of oil. Once some oil comes out of the fill point then you're done and can reinstall the fill plug. Both drain and fill plugs are torqued to 23 Nm.
---
Differentials
Both front and rear differentials are done the same way and take the same oil. The rear takes slightly less (1.3L) oil than the front (1.6L). The key thing to note here is that Suzuki specify a GL-5 oil for this: their own GL-5 fully synthetic gear oil (99000-22B65-045) in 75W-85 viscosity. Penrite make a GL-5 fully synthetic oil (Pro Gear GL-5 75W-85) and note that this is a lot harder to find than the much more common GL-4/GL-4 plus 75W-85 fully synthetic oil. Be warned it's easy to buy the wrong oil!
Fill and drain plugs remove with 3/8″ or 10mm square fitting. Remove the fill plug before removing the drain plug to make sure you can get everything off.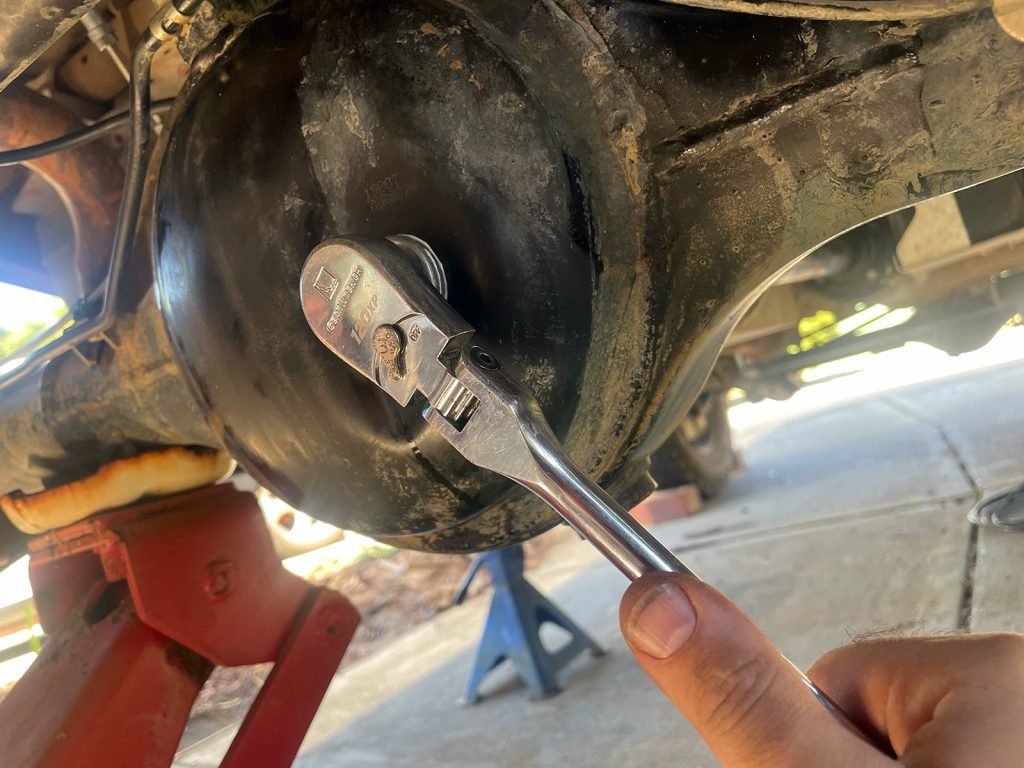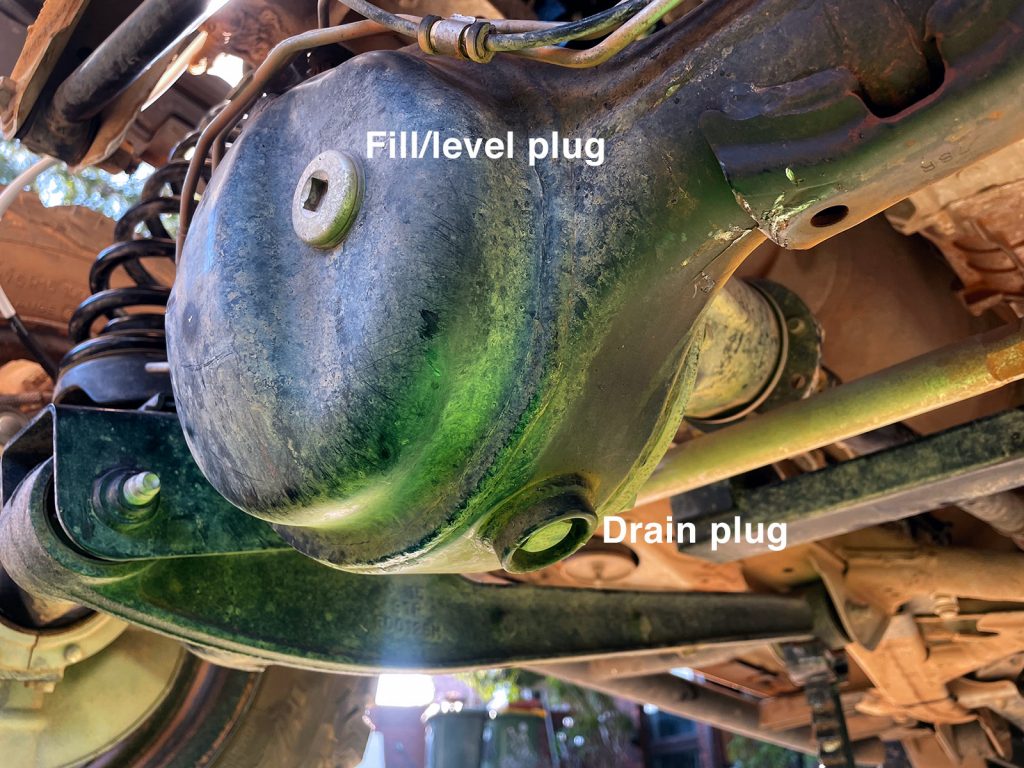 The fill plug for both diffs is an M20 nylon washer which can be replaced (Suzuki part number 09168-20002-000) or be a bit naughty and reuse it but put some teflon thread sealer on the threads as well. The drain plug for the differentials is an M12 copper or aluminium crush washer (Suzuki part number 09168B12002N000); replace this each time you drain the oil. I also like to put some teflon thread sealer on the threads just as an added precaution.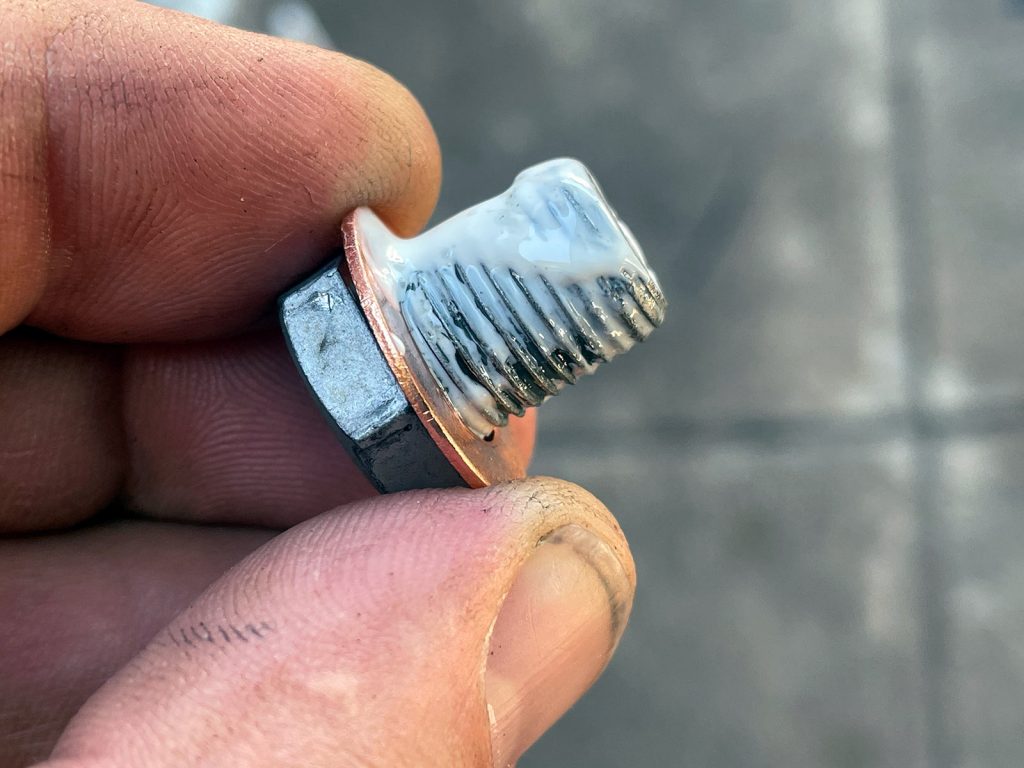 Once the differential has drained, you can reinstall the drain plug. The drain plug gets torqued to 55 Nm.
With the drain plug is reinstalled then you can start filling the differential up. The front differential takes 1.6L, the rear 1.3L.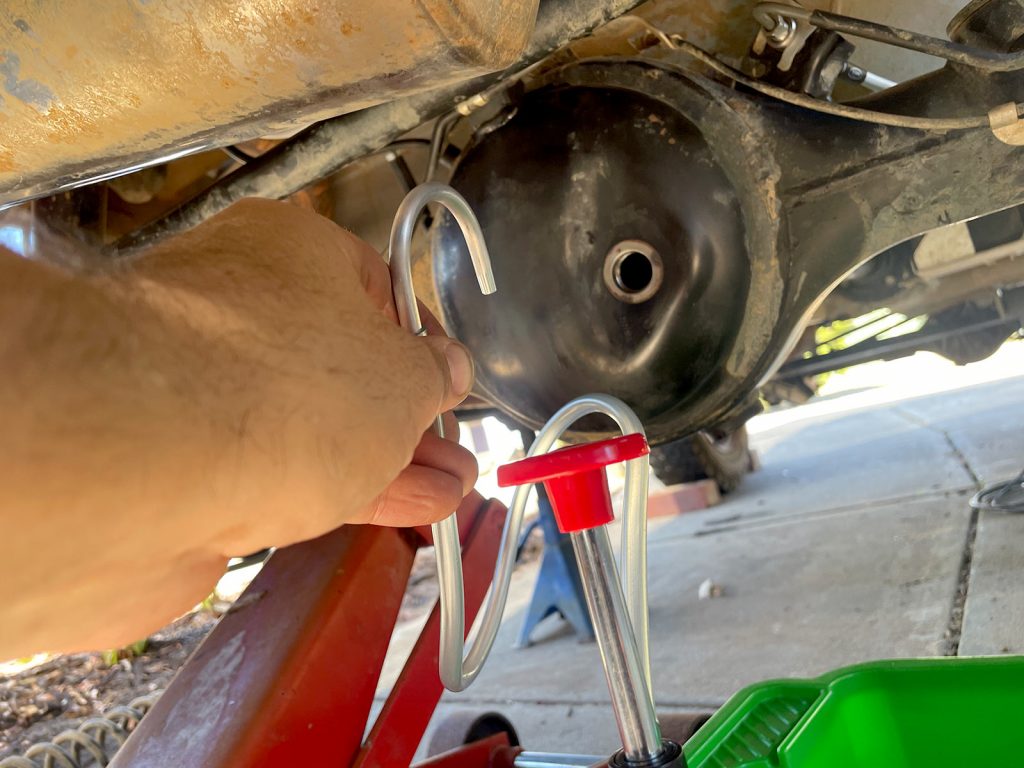 You fill up the differential until some oil runs from the fill point then you remove your filling hose and put in the fill plug. This is torqued to 50 Nm.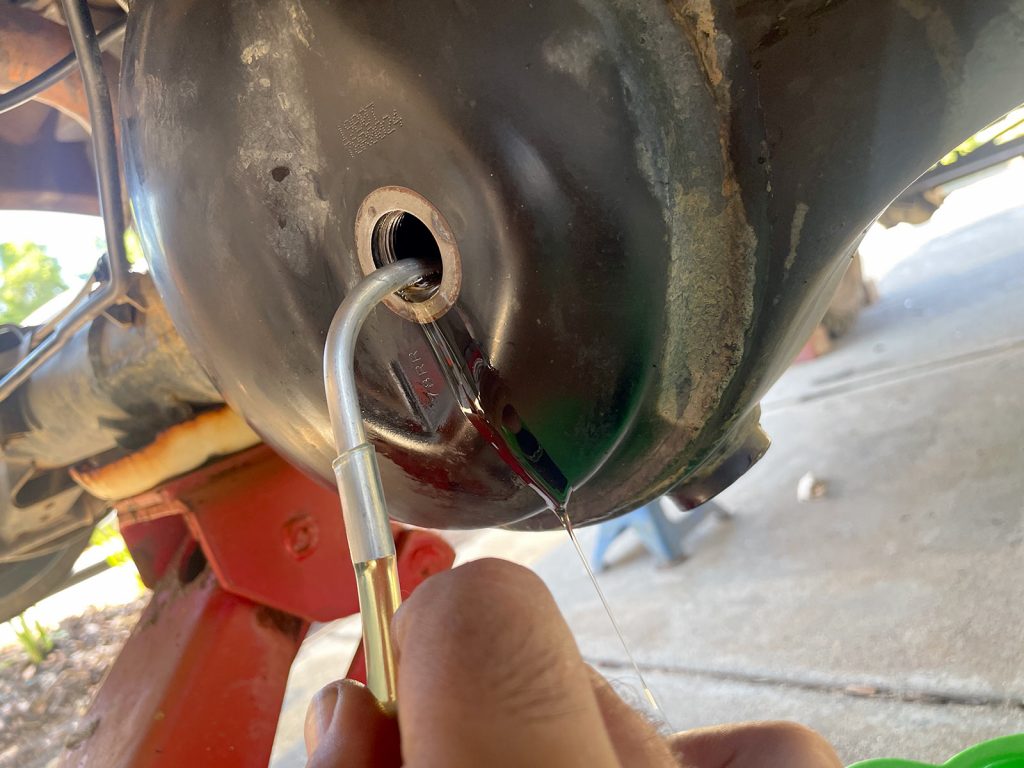 ---
Other fluids
Brake fluid change
Suzuki specify a brake fluid change every 2 years which is good practise; if you're in a humid environment or do lots of hard driving then I would consider doing it yearly. Brake fluid absorbs moisture from the air and also goes pretty goopy and terrible if you leave it too long.
A brake fluid change is easiest done with a bit of brake bleeding till you get some fresh fluid out of each corner. To slightly speed up the process just suck out the master cylinder reservoir first to just below minimum and refill, then suck it out again to below minimum and refill again with fresh fluid. Then starting from the back left corner, bleed this brake until you get fresh fluid coming out of the bleed nipple. Repeat on each corner until you have fresh fluid out of each side.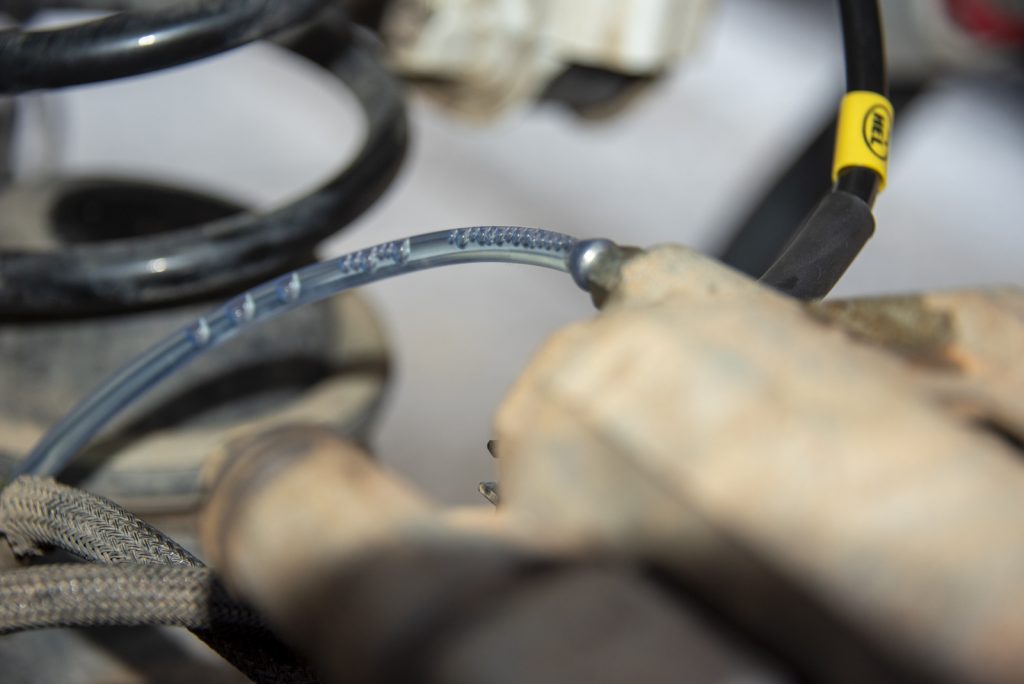 Brake fluid is specified to be only DOT3 not the much more common DOT4. You can use DOT4 fluid in it if you wish for the higher boiling point but it's probably not worth it.
Bear in mind the brake fluid is also shared with the clutch hydraulic circuit in manual cars; if you are low on brake fluid then you might have a leaking slave cylinder.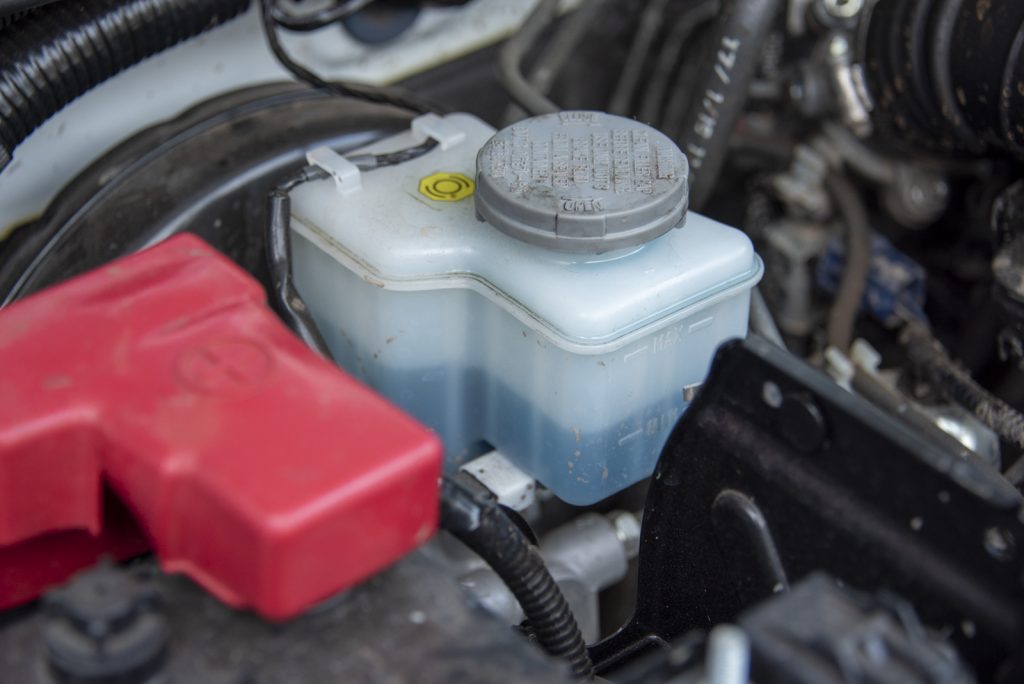 ---
Coolant change
Suzuki specify a 'super' long-life coolant in the Jimny (blue in colour, if that's your thing). This fluid is meant to not require replacing until 150,000 km or 8 years; future changes after this are 75,000 km or 4 years. If your car has green coolant from the factory then this is meant to be changed every 45,000 km or 3 years.
If swapping to a different brand/chemistry of coolant you should flush the system entirely with distilled water before swapping to this coolant.
To drain the coolant, first remove the radiator cap and then undo the drain plug at the bottom of the radiator. This will instantly spew coolant everywhere on you and the car but it will get drained.
This drain plug is just barely tightened beyond finger tight: 2.5 Nm is the spec when doing it back up again. Don't crack the plastic tank!
To refill the system, first start by removing the coolant reservoir to the full mark and install the cap on the reservoir.
After doing this, then fill the radiator up to the bottom of the radiator filler and reinstall the cap.
With this done then start the car and let it get up to full operating temperature & the thermofan kicks on. Shut the engine off and let it cool down and refill radiator to bottom of filler neck, and fill coolant reservoir to full mark. You can repeat this process a few times to make sure you have all of the air out of the system & the level doesn't change and you're good to go.
---
Brakes
Replacing brakes and adjusting the handbrake
Front pads have the OEM part number 55810-78R00. There don't appear to be a heap of options, and plenty of pads appear to be listed as 'in development' but not available right now. In any case, I was able to dredge up the following apparent cross references but use this info at your own risk. I'm not a brake pad manufacturer so I can't guarantee it's correct.
| | | |
| --- | --- | --- |
| Manufacturer | Part number | Notes |
| Suzuki | 55810-78R00 | Original pads |
| Pagid | T2836 | |
| Mintex | MDB4175 | |
| Brembo | P79040, P79040N | In development |
| Delphi | LP3637 | |
| Metelli | 2212150 | |
| Icer | 182373 | |
| Don | PCP1835 | |
| Hella Pagid | 355040421, 8DB355040421 | |
| Nisshinbo | NP9033 | |
I haven't found any good part numbers for replacement shoes, but they do exist if you need rear shoes. Front brakes appear to match DBA part DBA587, which you can get in fancy semi-slotted design as DBA587S.
Front and rear brake service stuff covered in this super long page here.
---
Engine services
Spark plug change
Super super simple to do this. Coilpacks off, spark plug undone with a 16mm spark plug socket, new spark plug installed.
Spark plugs are specified to be standard electrode NGK plugs, NGK part KR6A-10. A Denso part is listed for an iridium plug (ZXU20PR11). Spark plug gap is 0.95 to 1.05 mm for the NGK plugs, and 1.0 to 1.1 mm for the Denso plugs.
Spark plugs are installed to 18 Nm of torque.
---
Valve clearance check/change
This isn't something I've done yet but it is a placeholder for when I do it.
If you get in there, you might need a spare valve cover gasket. Suzuki part number for this is 11189-62R10. Often these can be reused but they go hard and start to leak with age so it's worthwhile throwing a new one in there when you take off the valve/rocker cover.
You access the rocker area to check the valve clearances by first removing the airbox and the ignition coils. After that it's a case of measuring stuff and swapping out different sized valve buckets to change the clearances as needed.
---
Other servicing
Headlight adjustment
Even with automatic levelling headlights, the headlights will require some degree of adjustment. Each headlight bucket has a screw to adjust up and down alignment, and also left and right adjustment.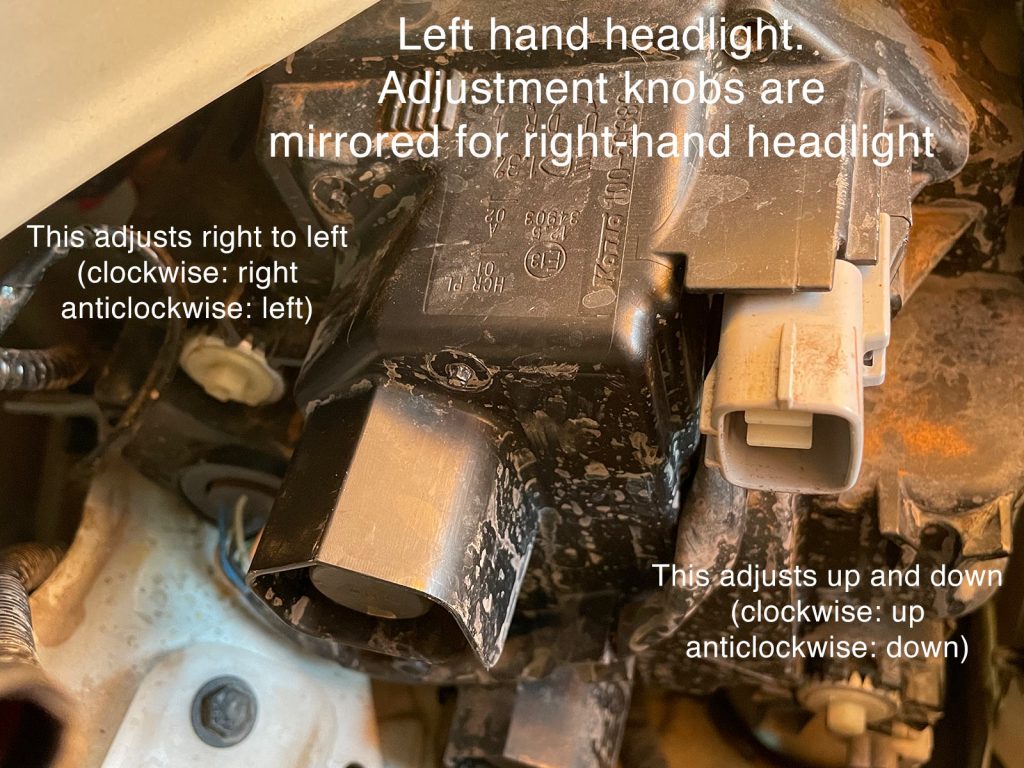 It is well worth sorting out this alignment to have maximum brightness headlights especially at low beam. Note that cars with LED headlights have self levelling functions: you need to modify this bracketry or actuating arms if you lift your suspension up and this is independent of the headlight alignment.
Alignment needs to have the drivers side headlight a bit lower than the passengers side headlight. This is best done parking parallel to a wall on a level piece of ground, and marking where the centre of the car is on the wall and also the centre of the headlight height-wise is on the wall. The specifications are based on 10m distance (discussed below) but you could account for the differences in 'drop' at different distances if you didn't have enough space.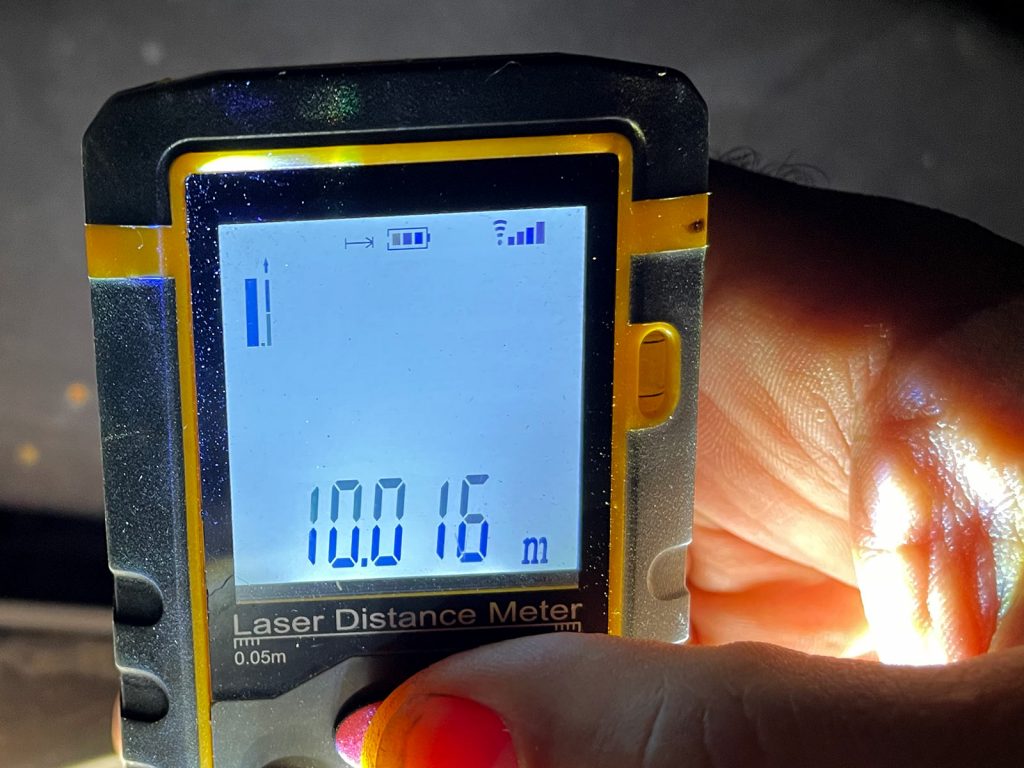 Honestly it was probably overkill to use a laser measurer but I wanted to quickly verify I was square to the wall I was measuring against, and it's a quick way to check the centre height position of the headlights & also the centreline of the car.
In terms of the adjustment and the beam position, you can see this in the 3 marks I made with masking tap on the 'wall' (actually a shipping container) when I sorted out my headlight alignment after installing my snorkel.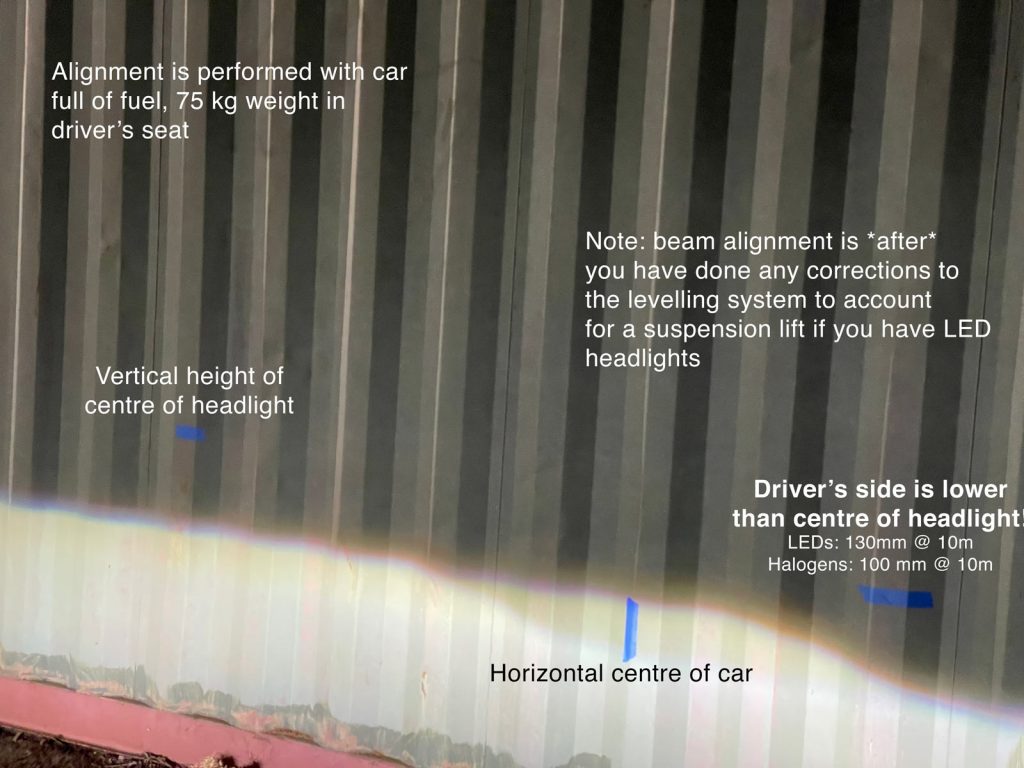 On low beam the passengers side headlight cutoff of the light beam should be at the same height as the centre of the headlight (this depends on your particular suspension lift!). The drivers side light should be 100 mm lower at 10 m distance for halogen headlights and 130 mm lower at 10 m distance for LED headlights. This equates to a dip of 0.57º for halogen headlights and 0.74º for LED headlights between the drivers side cutoff and the passengers side cutoff.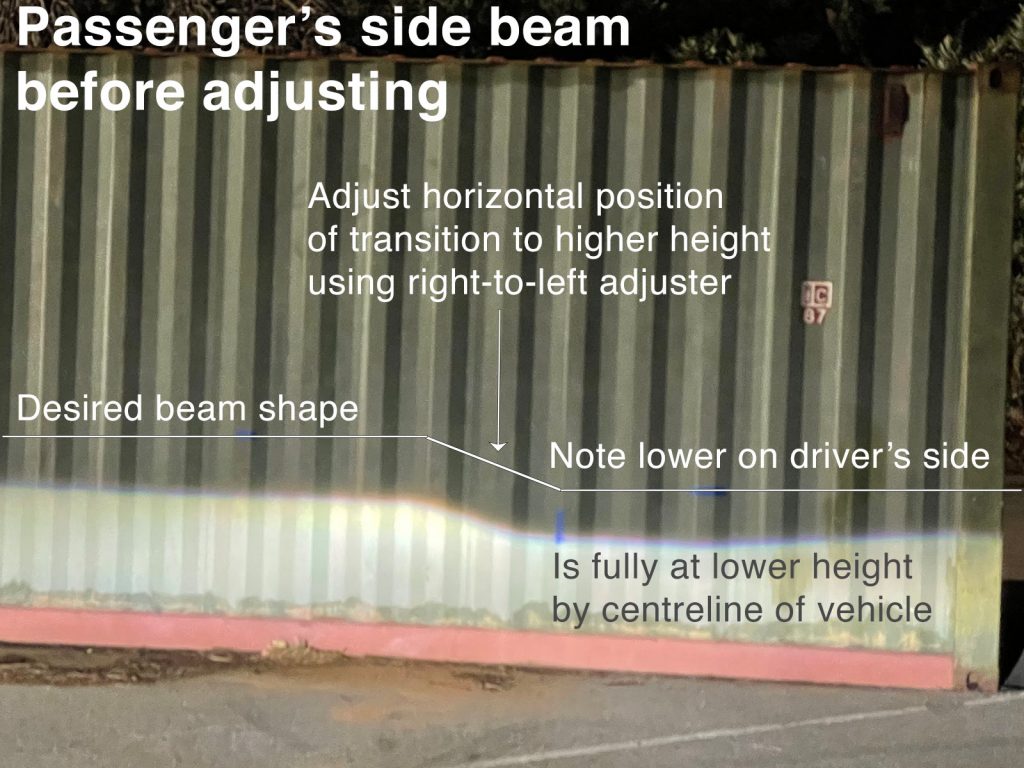 The cutoff should be complete at the centreline of the car i.e. the entire beam from the centre of the car to the drivers side should be the lower height, and then transition up to the higher height from the centre line gradually.
I didn't get a chance to get a final 'after' image because I had to run away to do other tasks, but, below is a photo where the driver's side headlight has been correctly adjusted both horizontally and vertically, and the passenger's side headlight is where it was at from the factory. You can see it was far from ideal.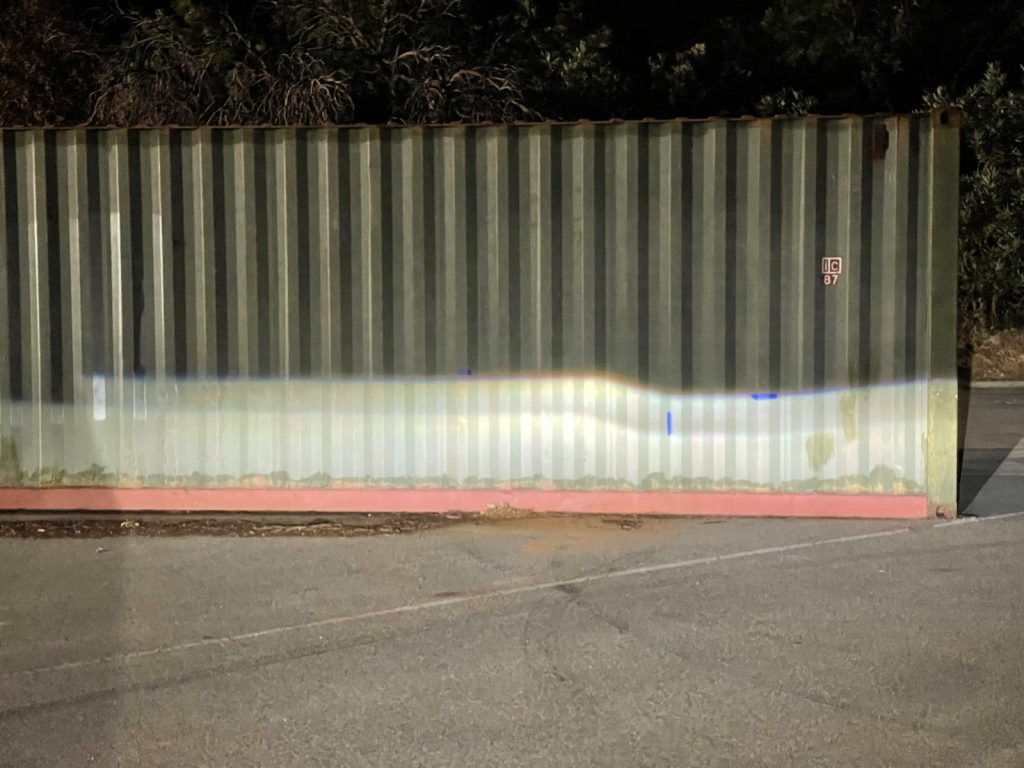 ---
Tyre rotation
This is overlooked. I wouldn't pay a workshop to do this, you should just do this as part of your regular check-over of the vehicle. It also ensures you yourself can change a wheel, which means you won't get stuck out somewhere with a flat tyre you can't change as you trusted a monkey with an impact gun to fit your tyres and now you cannot undo them.
Re: lifting the car as obviously this is necessary to change wheels. If you don't have a set of jack stands you can just use the factory jack, it's just a bit slower.
For a full 5 wheel rotation, the simplest method is as follows:
Remove the spare tyre. Fit this to the drivers back wheel.
Former driver's side back wheel goes to the driver's side front wheel.
Former driver's side front wheel goes to the passenger's side back.
Former passenger's side rear wheel goes to the passenger's side front wheel.
Former passenger's side front wheel goes on the back as a spare.
This is a lot easier to visualise in a diagram, so I guess I'll draw one up sometime..
Wiper blades
Wiper blade swap is pretty easy, especially if you replace the entire cartidge rather than just the blade insert itself.
I swapped to Bosch Aerotwin blades with my most recent blade change and they seem good. The part number for both left and right side at the front is BBA400. Unsure of the back fitment, it's pretty tiny and I didn't swap it.