Vehicles
Here at TGR we're mostly all about the motorbikes, but occasional car stuff sneaks in too. We're also about fixing whatever we have, modifying it and doing awesome stuff.
---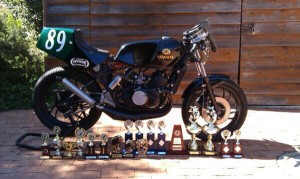 Race bikes
Our roots. Campaigned for 2016: Mick on a 1995 Kawasaki ZX-6R, Gos on a 1982 Yamaha RD350LC, and Chops on a 1982 Yamaha RD250LC.
Previous race bikes: 1989 FZR250RR, 1990 GSX-R 750/1100 Hybrid "The Gronk", 1980 Kawasaki 7/11 Hybrid.
---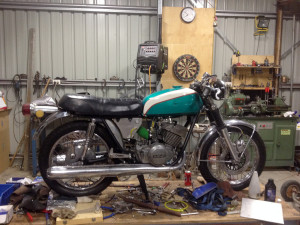 Road bikes
Lots and lots of these! In no particular order, we have heaps:
1973 Suzuki GT250 cafe racer/commuter "Robyn"
Another bike
Yet another
---
Off-road bikes
Vinduro, flat track, general trails, maddest postie bikes ever, we're also into the dirty stuff.
1984 Suzuki TS250x