MotoGP 2014, Aragon: a tale of what-ifs
What an absolutely fascinating race the 2014 Aragon MotoGP presented. It had it all – lots of battles, drizzle slowly getting heavier and some clangers of decisions made in terms of a flag-to-flag race. Lorenzo scooped up after the Repsol Honda boys binned it trying to hang out too long on slicks. The race itself is covered extensively everywhere else, what I thought I'd do here is present a race history chart and then, below the jump, look at the what-if scenarios for Marquez had the weather been a touch more favourable. First up, the race history chart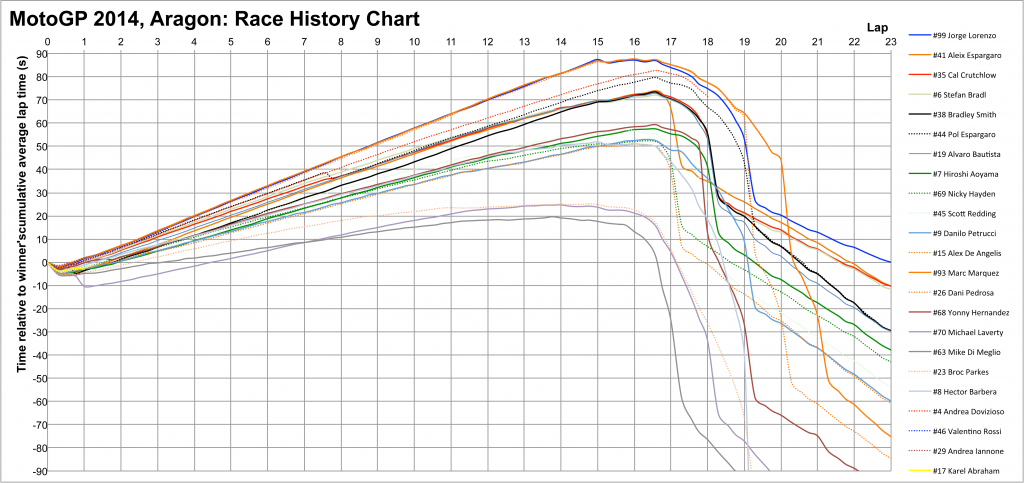 This chart is fascinating for a couple of reasons. Firstly, the big thing is you can see the effect of getting the call right in terms of lap to pit. The rain steadily increased, making it a tougher call. Even the fastest guys on wets, e.g. Lorenzo, were only doing 2'02-2'04 laptimes, and until lap 18 Marquez and Dani were increasing their lead.
Nevertheless, slicks don't keep their heat forever and the rain steadily increased, catching out those who stayed out a bit later… the biggest losers here were both of the Repsol Honda runners who really screwed the pooch in this race. That said, it was far from a clear-cut decision because the decision was being made only a couple of laps from the end. Looking at the lap times, the cost for pitting was about 28-30 seconds; with 4 laps to run you just have to be doing 7s/lap slower on slicks to still end up winning by not pitting. Below, let's look at what would have happened had the weather gods smiled a bit more on Marquez.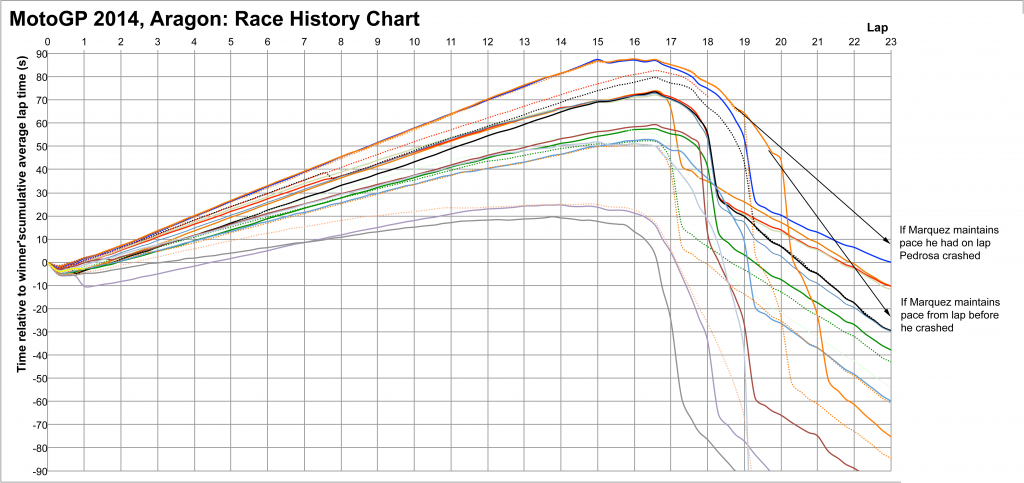 Here I've done some extrapolation. If we take the pace that Marquez was able to maintain on the lap that Dani Pedrosa crashes, we can see he ends up winning by about 10 seconds from Lorenzo. It was this gamble he was making.
Once Dani has fallen off, and the rain has fallen, what happens if Marquez was just able to eek out that much slower lap time? Well, he gets 5th, some 22 seconds back from Lorenzo. Obviously the conditions were getting away from him and if he backed it back even slower, and not crashed, he would have ended up finishing roughly where he did.
Did the Repsol guys leave it out a bit too long? For sure. That said, had the conditions not dumped quite as much rain, and had it kept it upright, Marquez would have either been hailed a hero for a gutsy win or he would have ended up in a better position than had he pitted. If he hadn't have crashed, but pitted at the end of the lap on which he did crash, he'd have probably ended up fighting with the Tech3 boys. Say 8th position, instead of 13.
What-ifs, indeed. Experience counts in these situations and it's a learning experience for Marquez that still doesn't really harm his championship chances. Finish ahead of all 3 championship rivals in Motegi and it's all over for this year anyway, despite the few missteps he's had in the last few races.