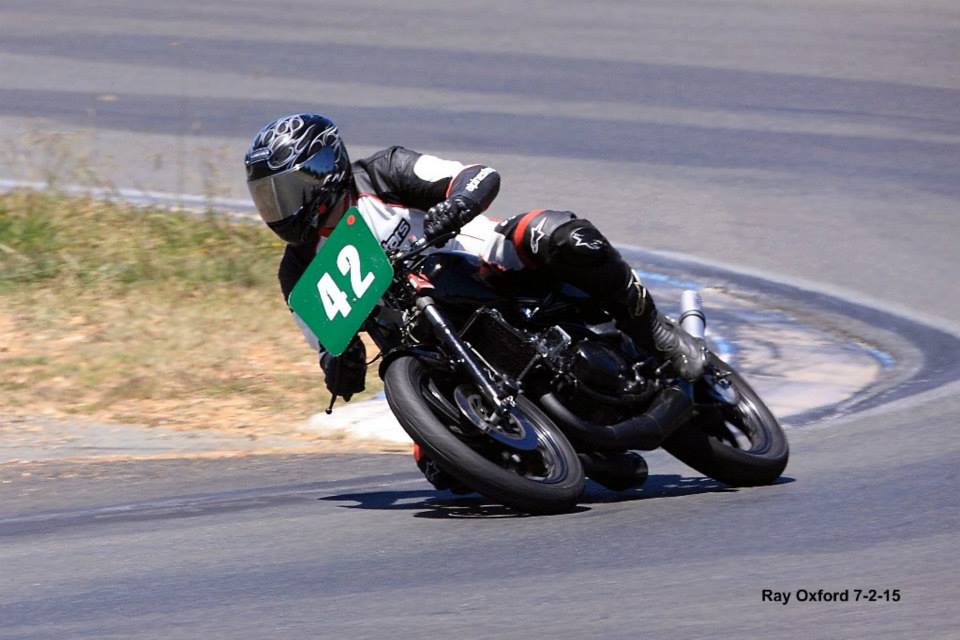 Chops' 2015 PCRA season report
tl;dr didn't race much, went fast, blew some stuff up. Had fun.
Mick's season report inspired me to actually sketch down what I did. Not as a competition – he had way more success than I did, but so I can set some goals and see how it'll pan out. Click on the ol' read more to check out how it went for me.
The season started pretty well for me in February. The LC was humming after not being pulled out of the shed for 5 months and I was up to speed pretty much straight away. I set myself a goal to get into the 16s at Wakefield, and I did that… FOLLOWED BY A FEW 15s! This is pretty good, the only faster person on the LC is MStevo with some high 13s in the 2013 1-hour. Admittedly quite a bit of my speed is my size (height: dead average. weight: a bit higher than dead average) compared to some of the other units who have piloted it rather than skill but I'll take what I can get.
A particular highlight for me was pushing a few things I wanted to try, like attempting to carry 4th up the hill. This worked for me to get my best lap time, although I outbraked myself on the next lap trying it again. You live and learn:
I almost went as fast being pretty conventional through there, though. I think some more brave pills and carrying another couple of km would make all the difference to make 4th work for me up the hill.
All in all I captured a few races from this first round on the GoPro. Some are better than others though.
Ended up taking 2nd for P5 250s and 2nd for P5 350s for the round which I was pretty stoked with. So stoked I may have been a bit excited picking up my trophy:
Happy days really. Unfortunately, not so much beyond that – work and life got in the way so I didn't race any more until Round 5 and the 1-hour. Gos and I had a special plan for the 1 hour: he and I would go out on the LC… AND Mel's fantastic KH100 bucket called 'lil-stinky'. The stinkmeister had sat around for 5 years gathering dust, so we spent a morning talking shit and getting the beast going: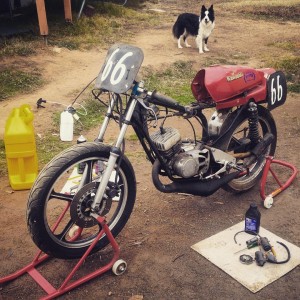 There will be more on this bike in a page detailing the ongoing mods, but needless to say like a quality bike it fired up straight away. We focussed mostly on the making it pretty part rather than fast because, well, known bikes deserve pretty and new tyres over more speed.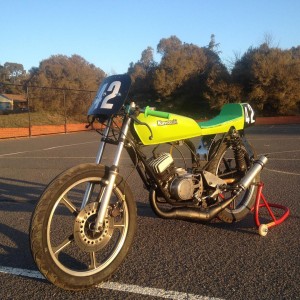 It at least looked the part.
Saturday came around for round 5 and I was nicely straight on it on the LC in 250s, but nowhere in 350s. Nelso got bloody fast in my break! All credit to him, even though I need more seat time. I got myself back to where I was in Feb within a couple of races and felt good, taking out 2nd again for the round. I even got in some good overtaking.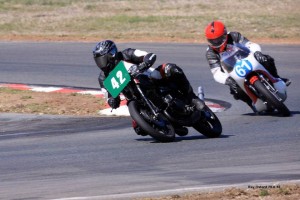 Lil'stinky was a different story. I wasn't far off the superlites pack but just couldn't find the half a second a lap to mix amongst them. Had some good battles with Jessa, though, with her on her commuterlite and it was loads of fun.
Sunday came around… and we had some teething problems with Gos on lil'stinky. Namely, the bike was a bit too small for him and hugely uncomfortable. Nelso to the rescue with some padding… then Gos came off in qualifying and we had to superglue the carb manifold back on to even get out to race the stinkmeister in the 1 hour. We took this development with the usual TGR good grace and laughed it off.
Hilariously we qualified right next to Mick and Nelso on Nelso's 350LC for our first one-hour. That's where it all started to go pear shaped. Got to the bike with a great start and… it died. Felt like an eternity, but in reality 40 seconds, of cocking about with the kill switch and I made it go. I'll be replacing that 50c part :(. I flogged it for a good 38 minutes and then handed over to Gos for the final run to the flag. We were nicely 2nd in class after I ended up stone motherless last. I got to pull off some great moves getting us up to that point:
Unfortunately, life had other plans for us. 2 laps from home and the poor LC's crank said "yep, we're done". After many years of faithful service, it's snapped and changed from 180 to 165º crank timing, advanced a piston, detonated the shittery out of it and taken out the beautiful Wössners too :(.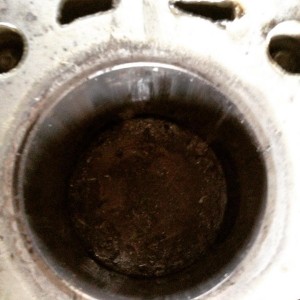 Well, I guess it's lucky we had lil'stinky to redeem ourselves… right? Right?
Yeah, not exactly. This time the 1 hour start was my fault – stomped on the gear lever too hard, ripped out some threads, was stuck in first gear for a whole lap. 7 minutes for that first lap :(.
I persisted, and the poor bike was super down on power after supergluing the manifold back together. I did what I could, even carried top gear around turn 2, but it just wasn't enough. I tried to keep out of everyone's way while still going as fast as I could:
Alas, it wasn't to be, I handed over to Gos and the poor bugger got a bit wrong footed into the cauldron and got spat off. 2 crashes and a crank is a good effort for a day, but that's racing for you. You win some, you lose some pretty hard, but you have a good laugh with your mates about how it panned out no matter what happened.
All told it was a mixed bag season-wise. I can be proud to get the LC as quick as I got it especially given the lack of track time. Lil'stinky has a lot of potential, and I know I learnt some things in the 1 hour nursing it with a lack of power that will help a few spots on both the LC and also the mighty stinkmeister.
As for those long promised goals?
More consistency. I'm not sure how it'll go with me doing rounds, but a compressed calendar might help me get more chance to book it in with work.
Maintain the speed I found at Wakefield, but improve more elsewhere. I need to do at least some trackdays at EC, I haven't ridden there in about 3 years and I'm very, very rusty.
Redemption on lil'stinky (however that is found).
I have some specific laptime goals but I'd prefer to share them in another post as I work towards them and hopefully break them.
There's some bike rebuilding to do, which I am working towards. There's also a lot of improvements to make, and we're working towards those two (especially for lil'stinky).
It was a good year for TGR in general and I was pretty proud of our 3 main troopers of myself, Gos and Mick plus affiliates Leanne and Nelso. Always a pleasure to be in a garage with them; the highlight was Leanne's pit bike with her new WR250! So good. Also great to hang around with Jonesi, Adam, Anmic and Jessa, plus the other PCRA crew like Chuck, Roger Ward and the like.
I especially want to thank Clint and Nat for coming up to the 1 hour. Sorry I didn't get you guys a trophy, not sorry you got to see me crack my fastest time ever on the LC and smash out 40 minutes of solid flat out times. See you guys in NZ.
I had a fun year, even if it didn't deliver any real results or even what I expected.
It was fun regardless.