Generation 3 Jimny history – an Australian perspective
This is part of a broader article going through the history of the Jimny in Australia. Here we focus on the 'growing up' stage of the Jimny: much more modern electronics and a revised shape more suited to the turn of the millenium. Unfortunately this generation is a bit harder to capture in source documents but if you have any, especially magazine articles about the revised engines and things then let me know!
You are here: Australian Jimny History -> Generation 3
Next: Australian Jimny History -> Generation 4
Previous: Australian Jimny History -> Generation 2
---
Sections
---
Revised shape for a new millenium
Building off the success of the Sierra and its late model change to coil springs, the model was revised again in 1998 to the third generation, now officially dubed the Jimny in Australia (even if that name had been used informally since the beginning). This is the first year for which records exist in the official RVCS database letting you look up the compliance specification for this generation. Sierras in Stockman trayback form continued for a few years after the introduction of this generation which was wagon only for its entire model run, and early cars could also be bought in convertible form.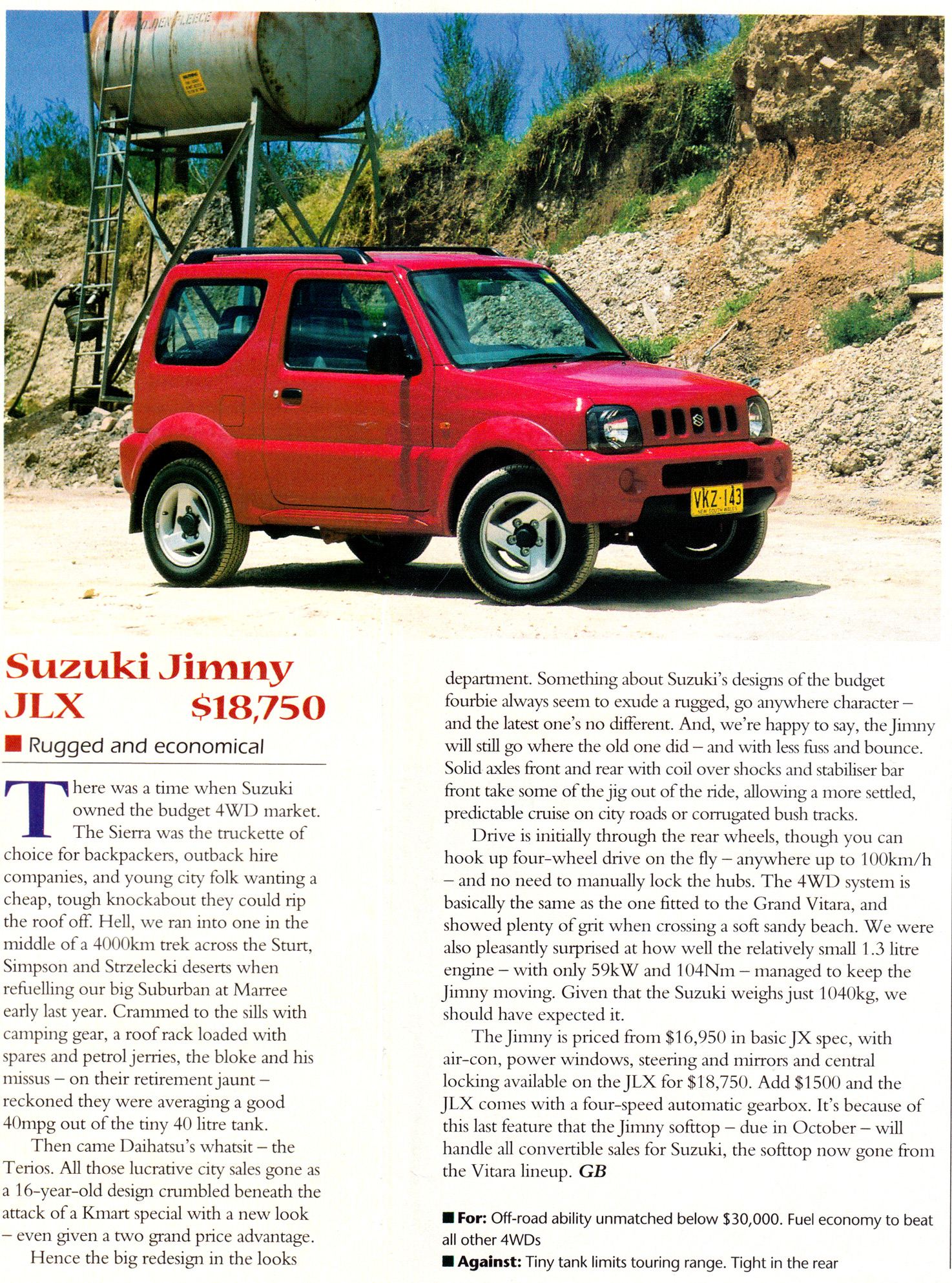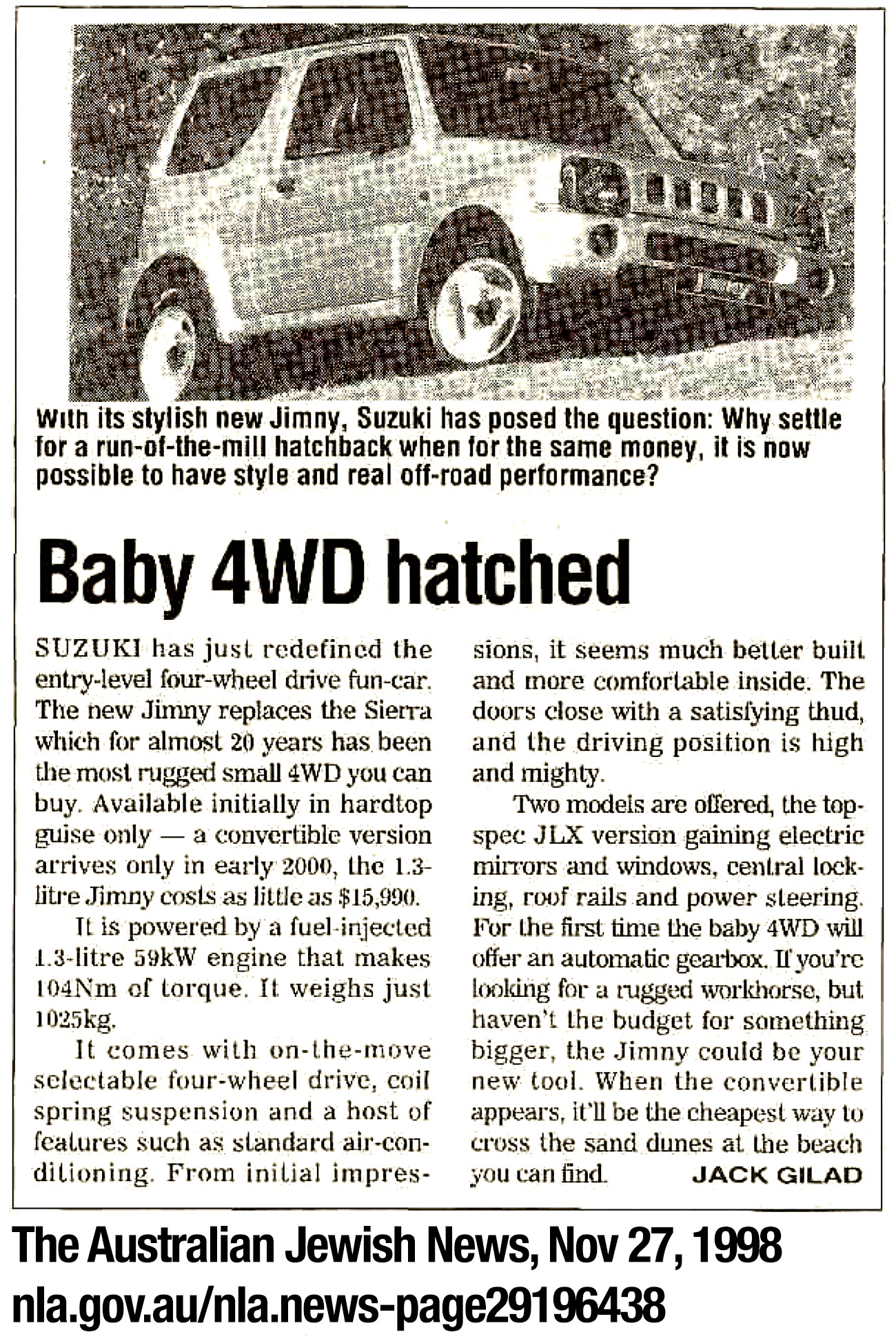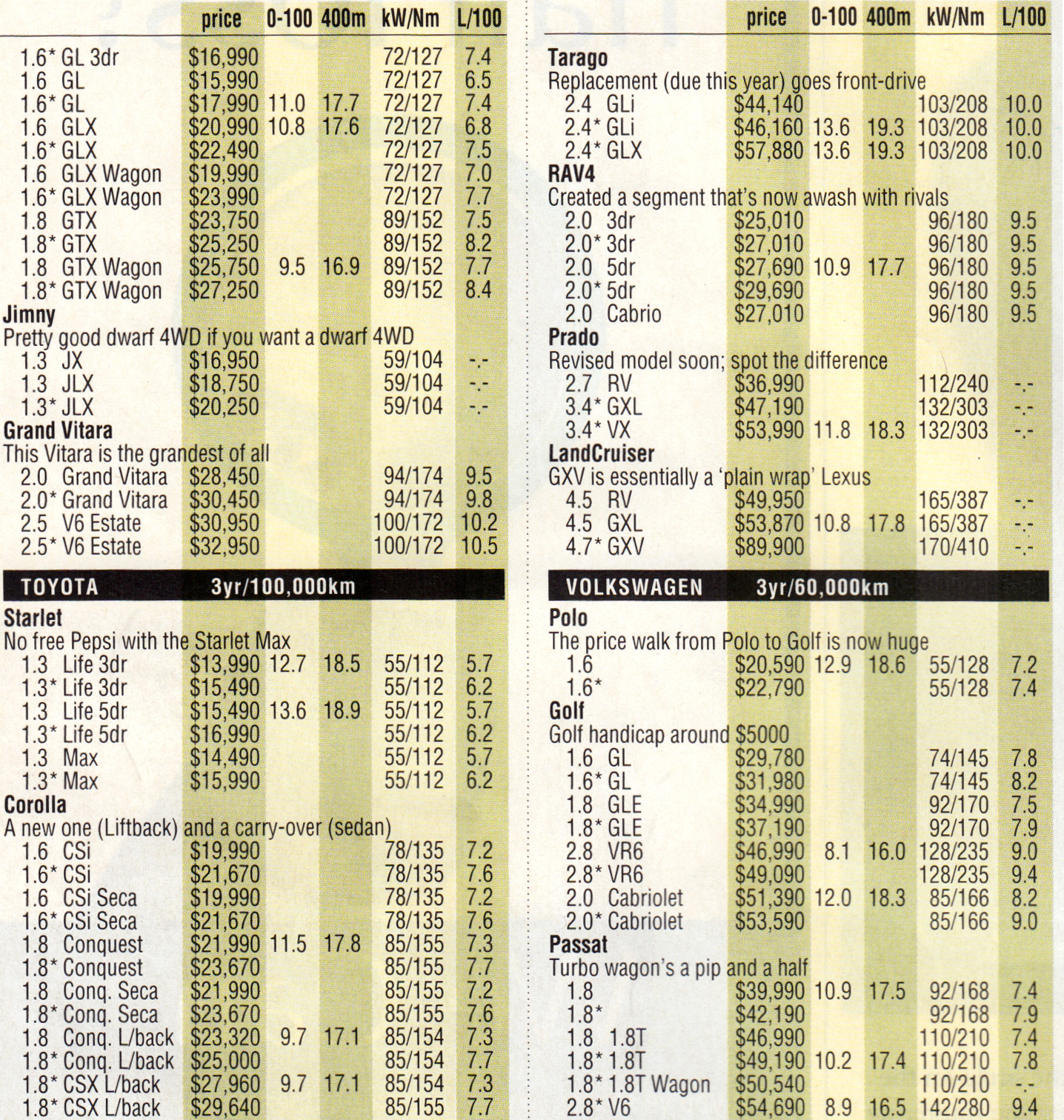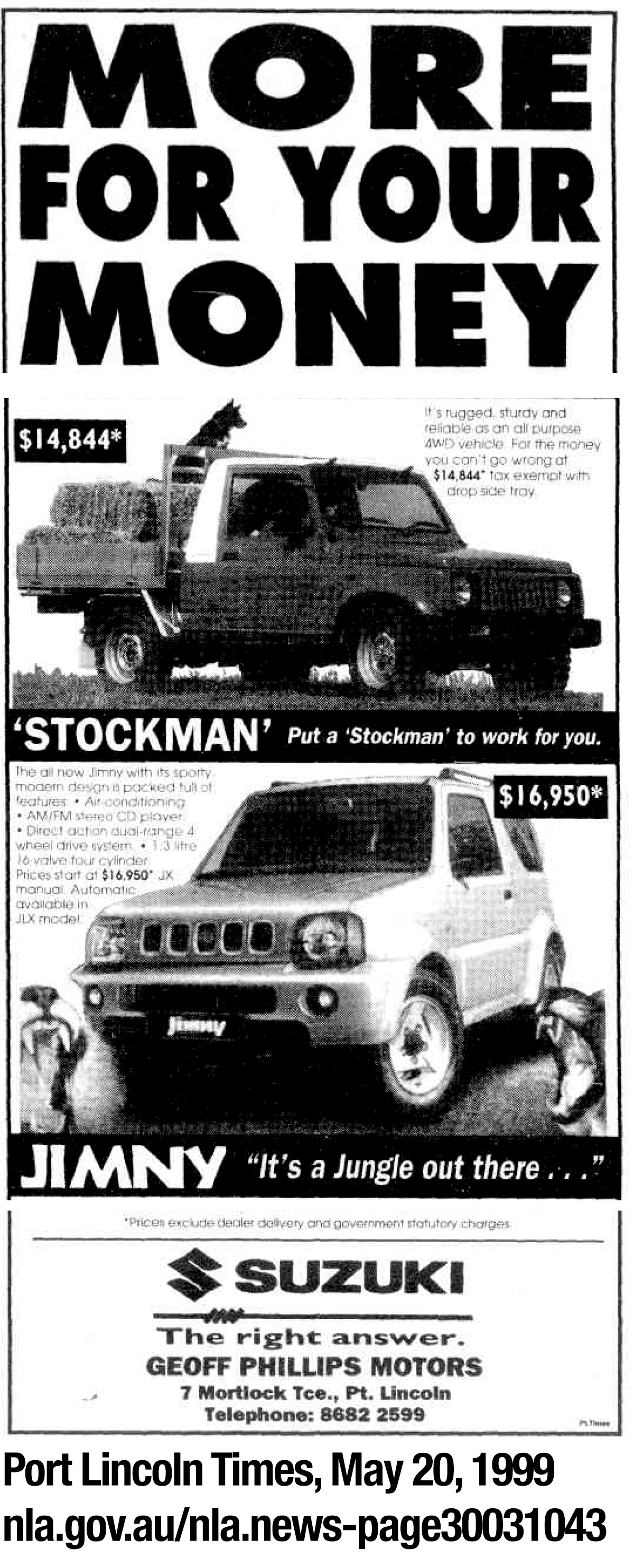 There were 3 engine revisions for the Jimny in Australia, starting with the G13BB and moving to the M13A engine, and gaining variable valve timing later on.
Model of stability
ESP was also added later on in the model's life, as noted in this review of the 2015 run of Jimnys by CarsGuide: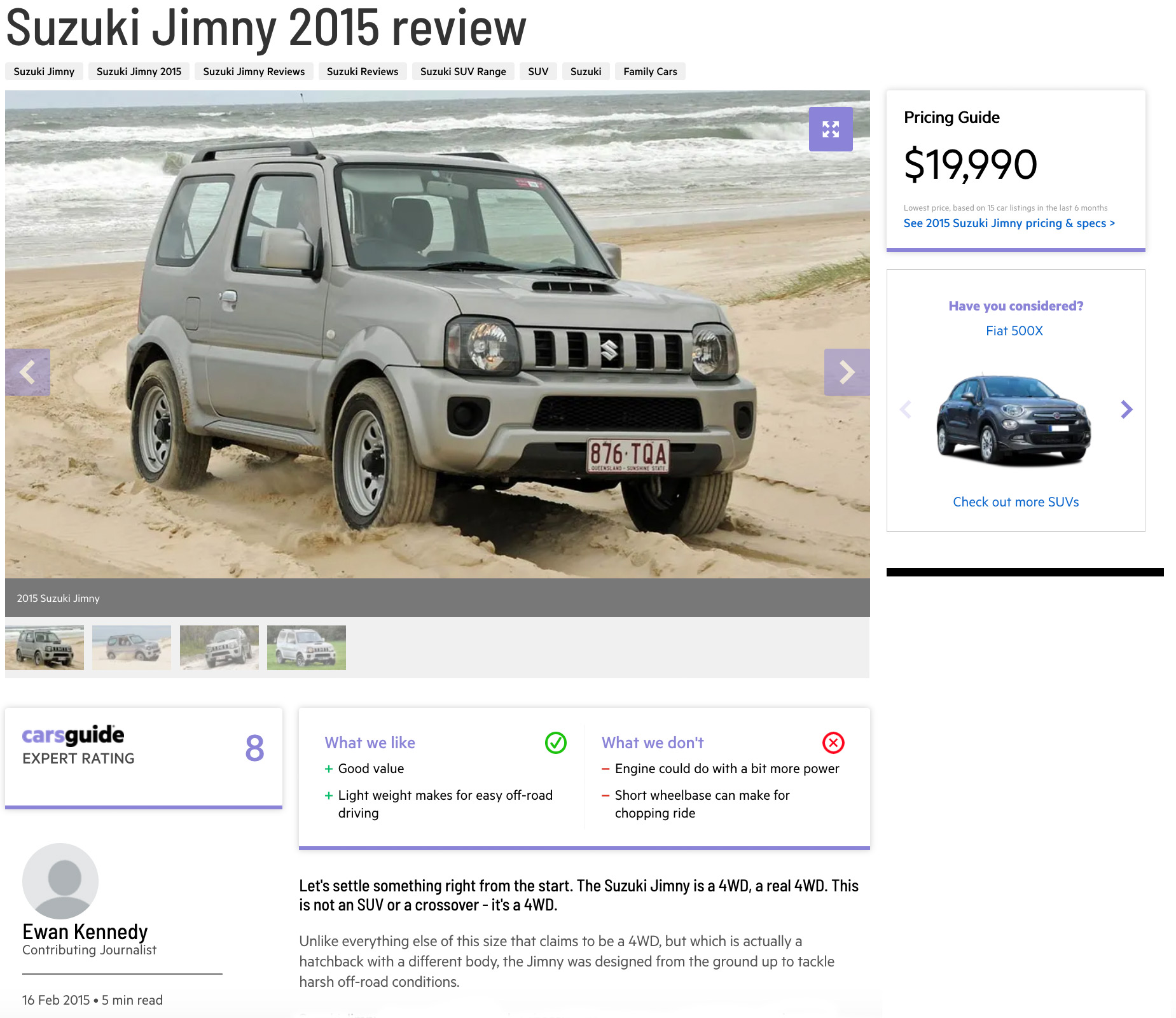 Many people maintain that the gen3 Jimny remained at the same low price throughout it's history. This isn't necessarily true. It did drop in price with inflation corrections, but the removal of lower specced models and other price things meant the price did eventually creep up, to a before on-roads cost of ~$22k for a manual and $24k for an auto just prior to the introduction of the next generation Jimny.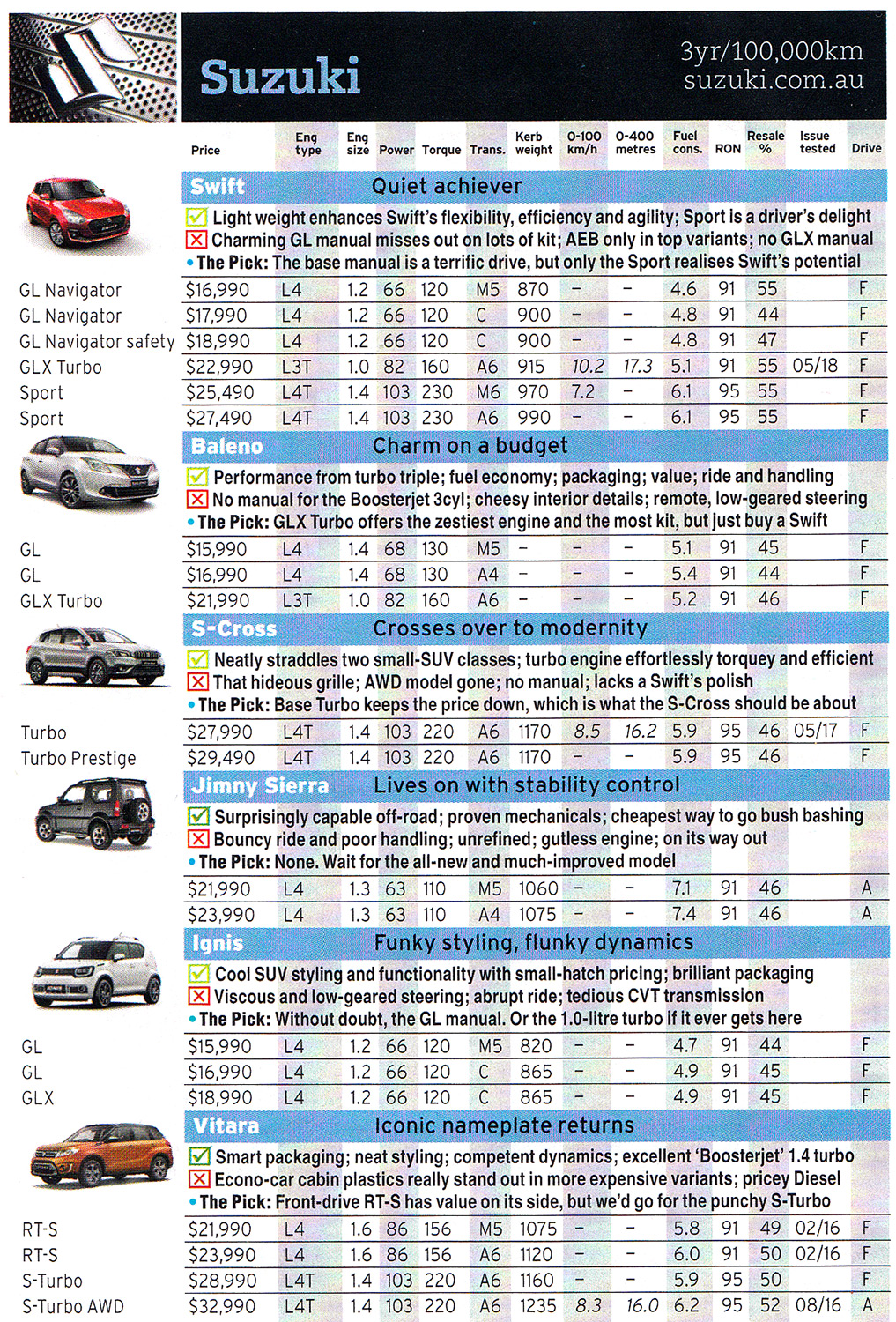 The generation 3 Jimnys were loved by those who drove them, such as this review by Mr4x4 in 2016. The challenge is fewer people drove them: Generation 3 Jimnys didn't sell quite as well in Australia, which also appears to be reflected in the literature available for them. They arrived at a time where cars were expanding and cars were coming a lot more technological. Although there was a growth in 4wd sales, these were more towards SUVs and not quite the same use for people getting inspired by more remote touring or tackling tougher terrain. The Jimny, however, outlived all other tiny 'proper' 4wds, paving way for the 4th generation Jimny.