Generation 2 Jimny history – an Australian perspective
This is part of a broader article going through the history of the Jimny in Australia. Here we focus on the first big change to the Jimnys with the production of the Sierra, which lasted for 17 years.
You are here: Australian Jimny History -> Generation 2
Next: Australian Jimny History -> Generation 3
Previous: Australian Jimny History -> Generation 1
---
Sections
---
The Sierra: Generation 2 revision
The Sierra, bringing on a 1L engine in Australia, revised the looks and added power, space, and better fuel economy.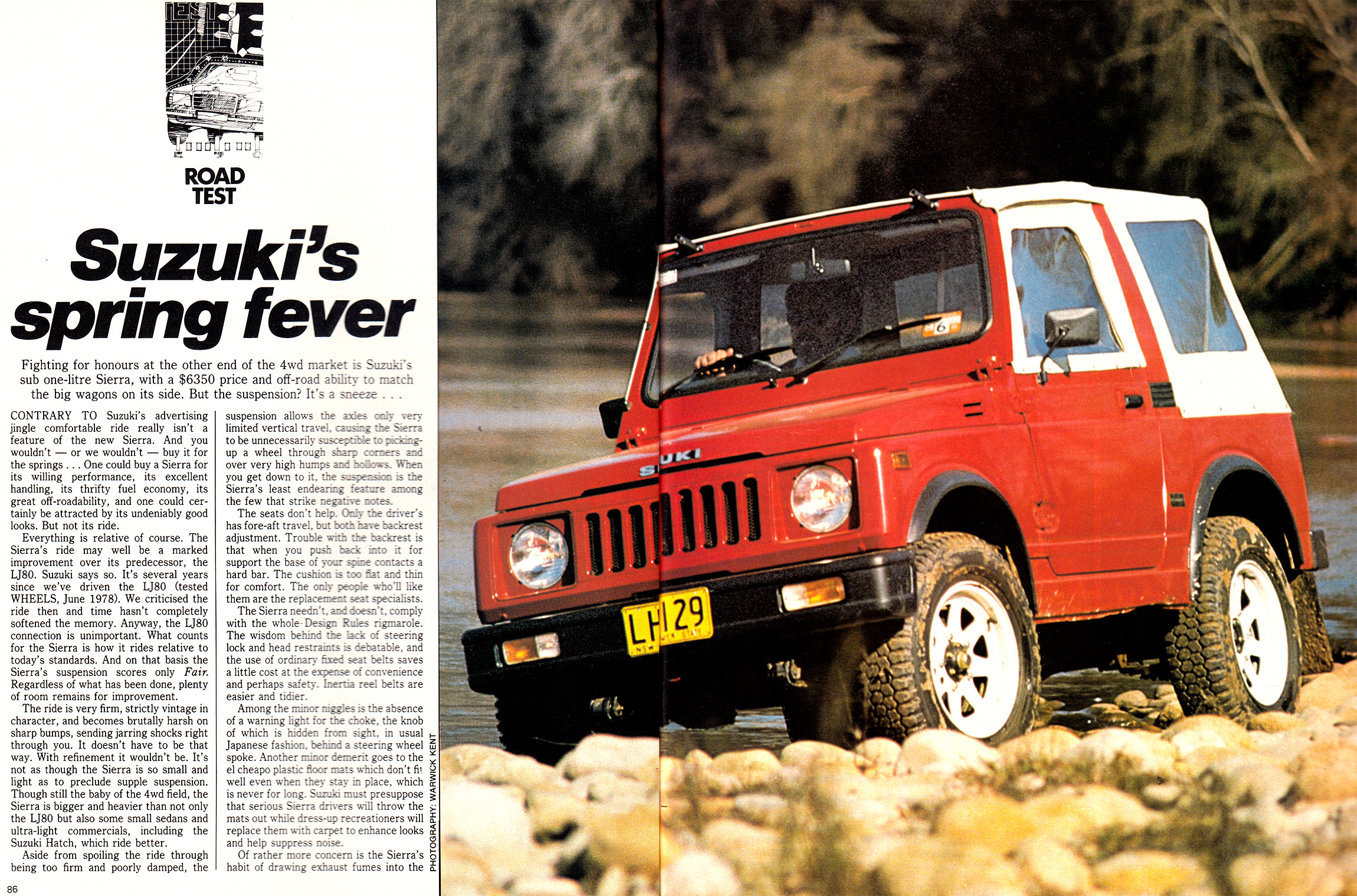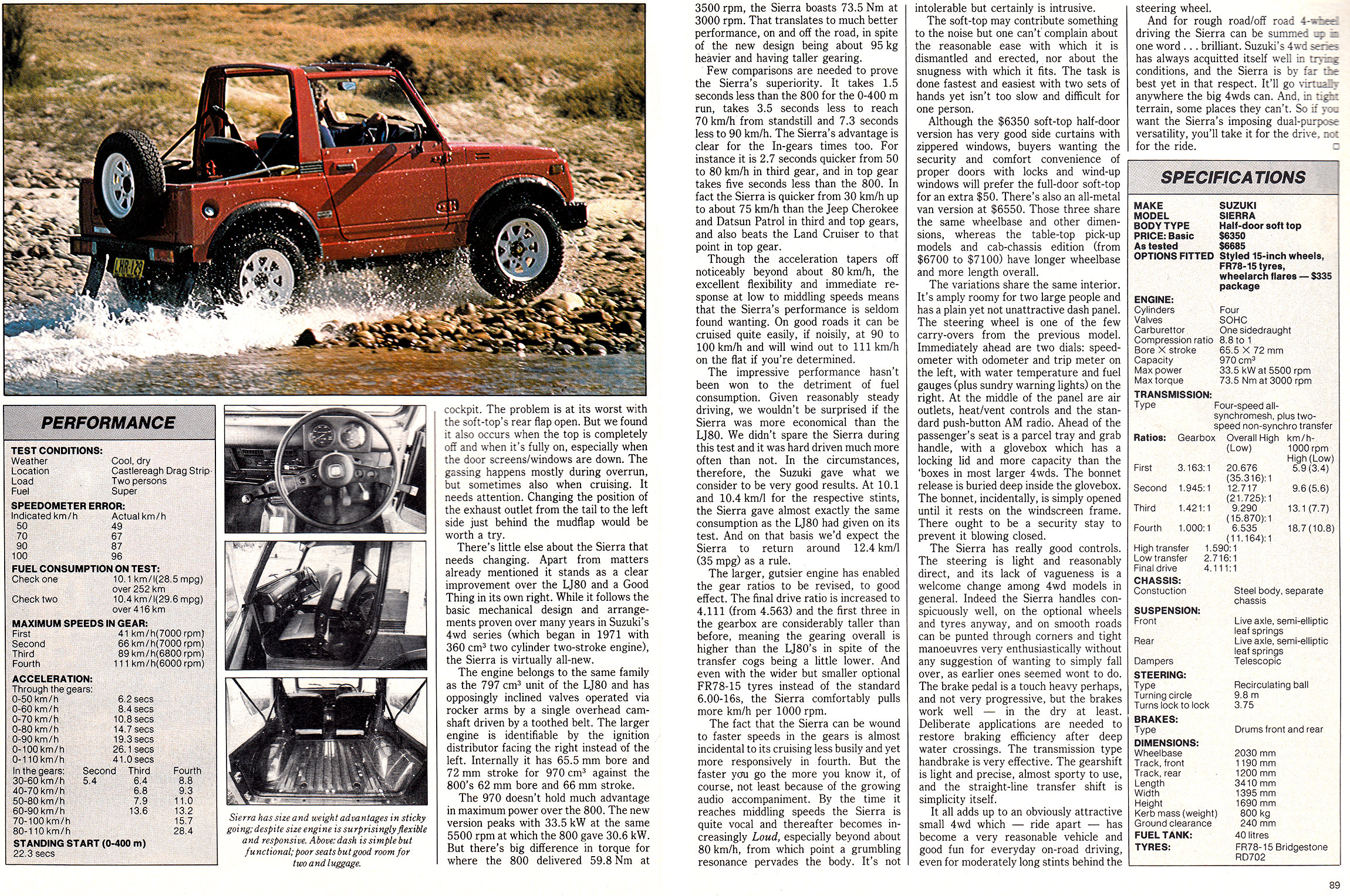 The change to the new Sierra brought with it a growing interest in these cars not for just utilitarian offroading purposes but also as cars more at home in the city.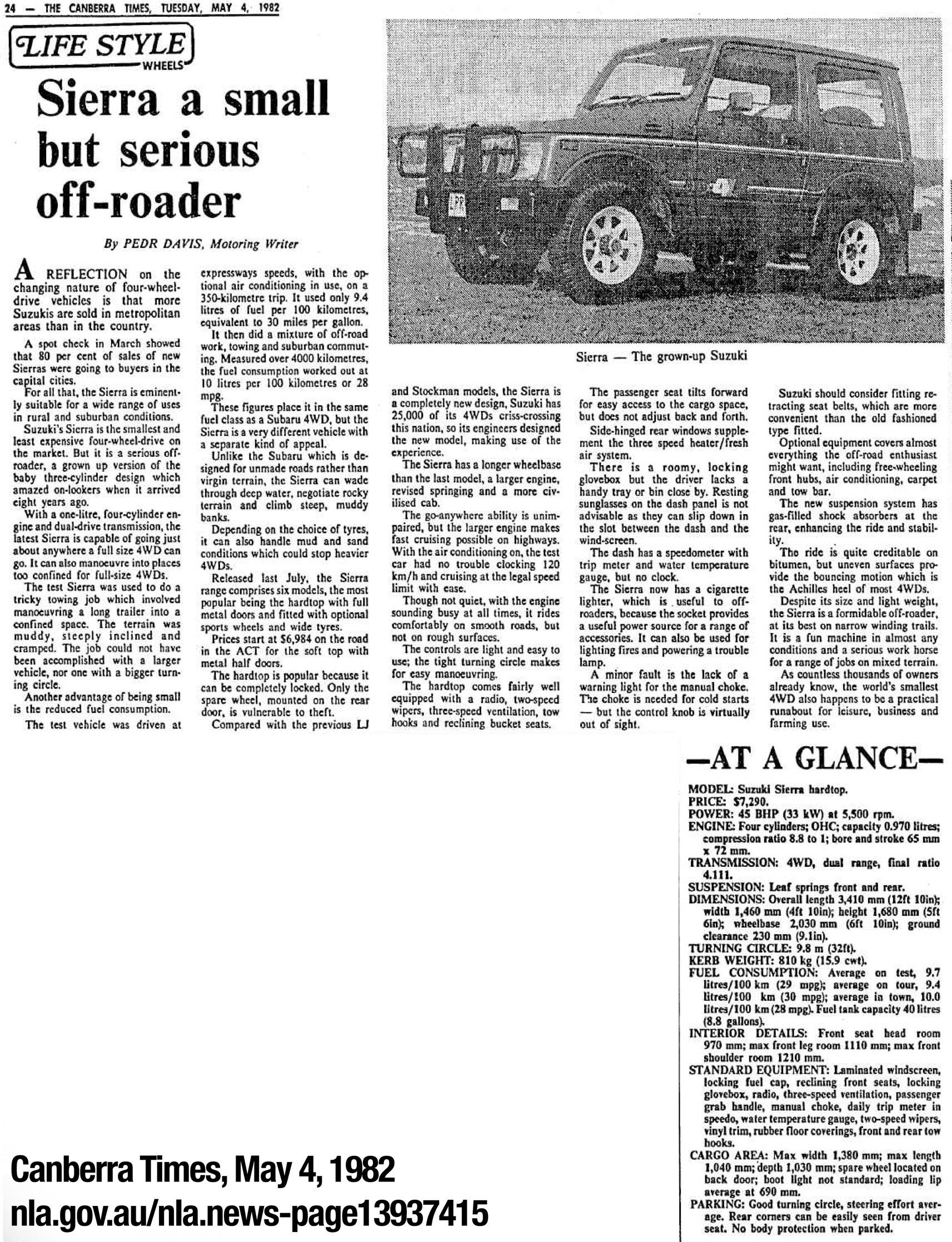 With an increasing growth in the market, there was a growing market for modification of these cars & accessorising them with add-ons became an ever-more obvious sight. This included special models that were available direct through Suzuki dealers, such as the BFGoodrich special edition which sold for $12 000, a markup of over 40% on the basic vehicle price! This is also around $37 500 in 2019 money or $42 600 in 2022 cost.
This special edition vehicle did feature a lot of extras including fancy Recaro seats, air conditioning and even a towbar. Quite a lot for the poor 1L engine to pull around. This article also looks like it has a typo with suggesting 215 section tyres are 'two millimeters' wider than standard – my guess is they meant 20 mm above the standard 195 section tyres.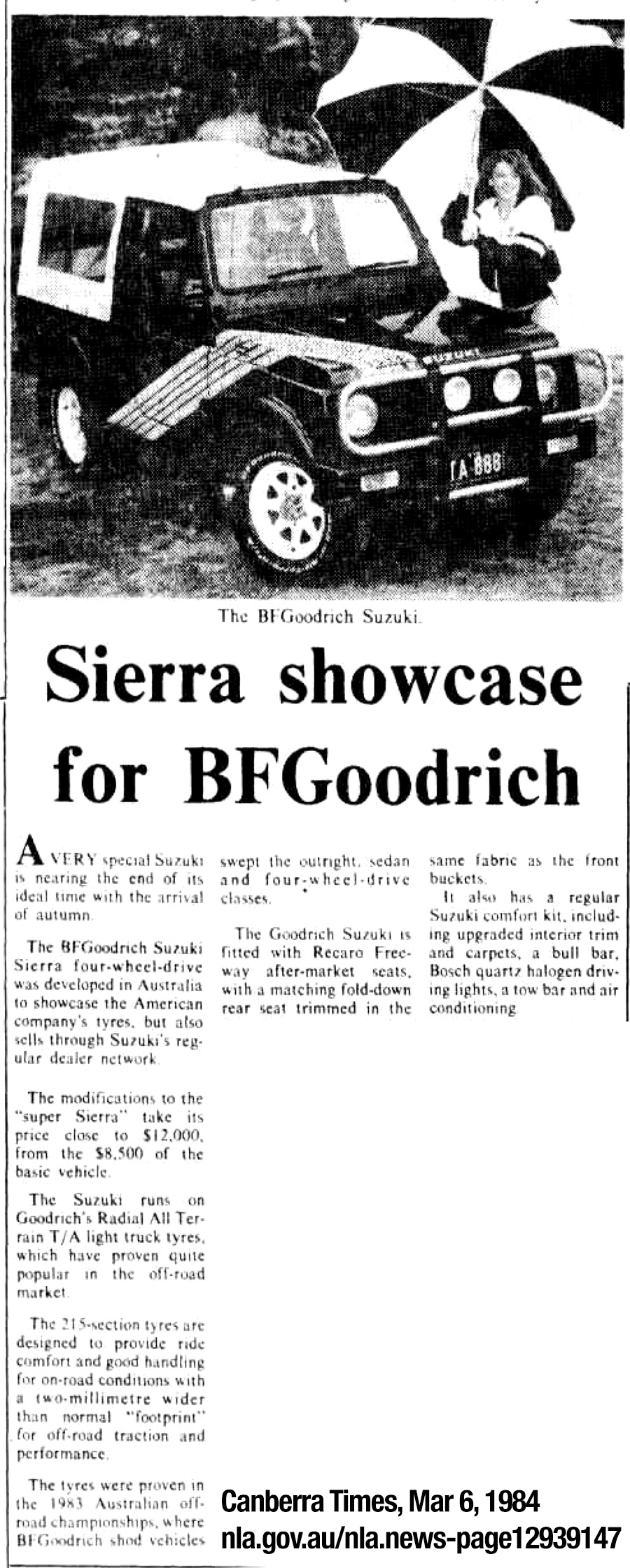 Sierra 1.3L: big bore brings bigger success
Model year 1985 brought on a larger engine option (1.3L) and a 5 speed gearbox, both welcome features.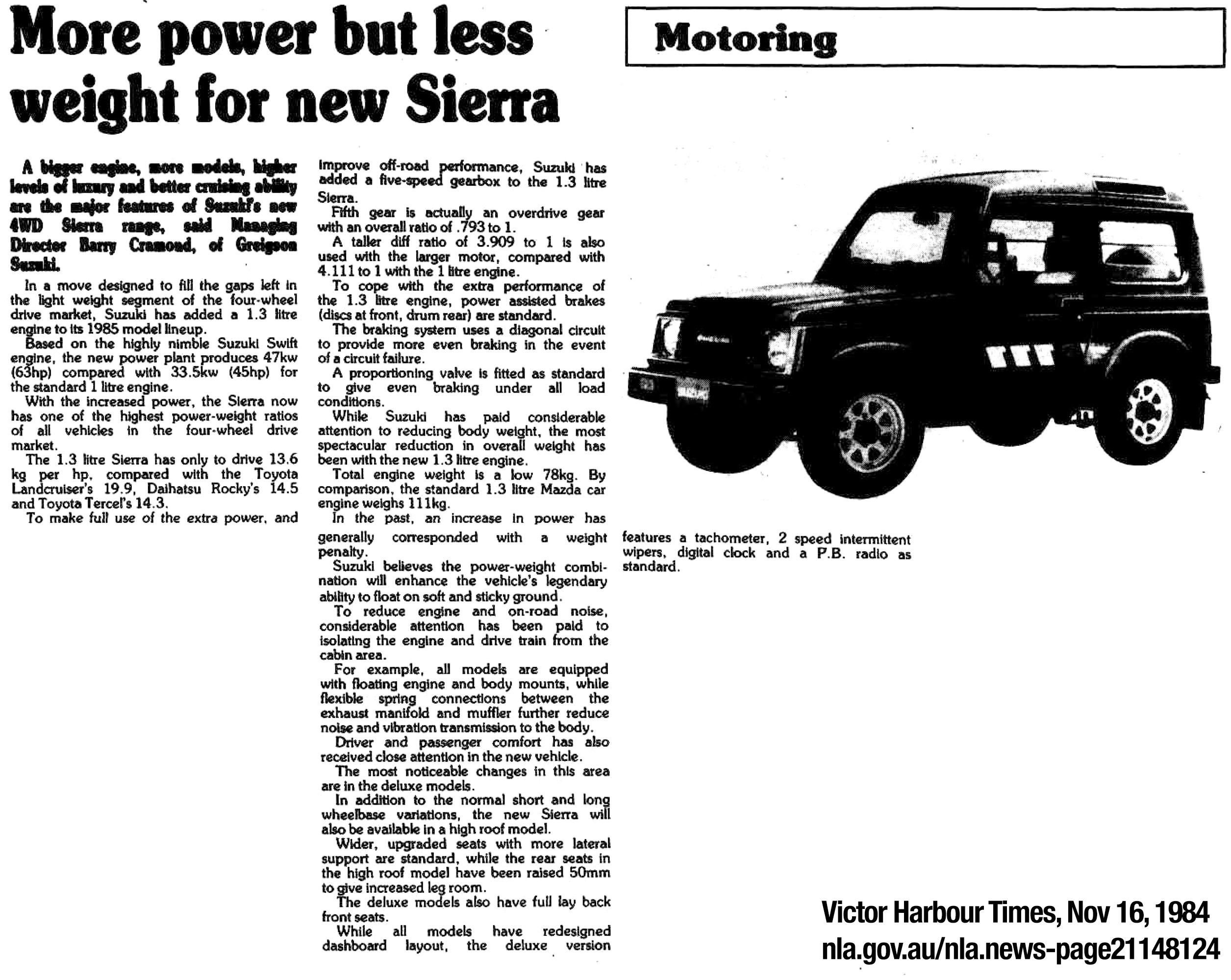 The new 1.3L engine and 5 speed gearbox is what powered the car known as the Holden Drover – a rebadged Sierra as part of a larger effort by Holden to broaden its car offerings by rebadging other manufacturer's vehicles. The Drover had revised headlights, only was available in the higher spec option and had a much higher pricetag: base Drovers around $9700 and high roof models $10 800.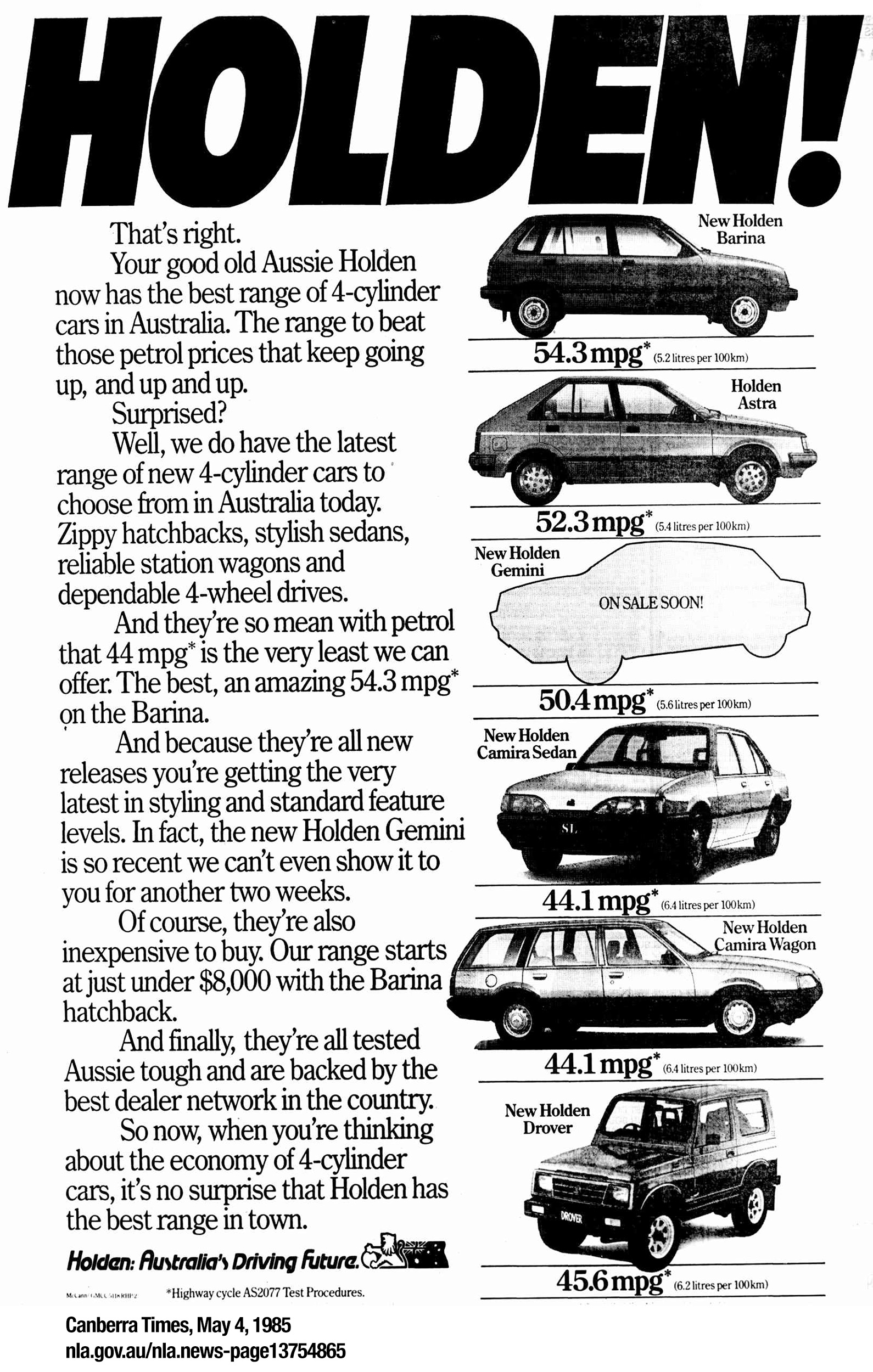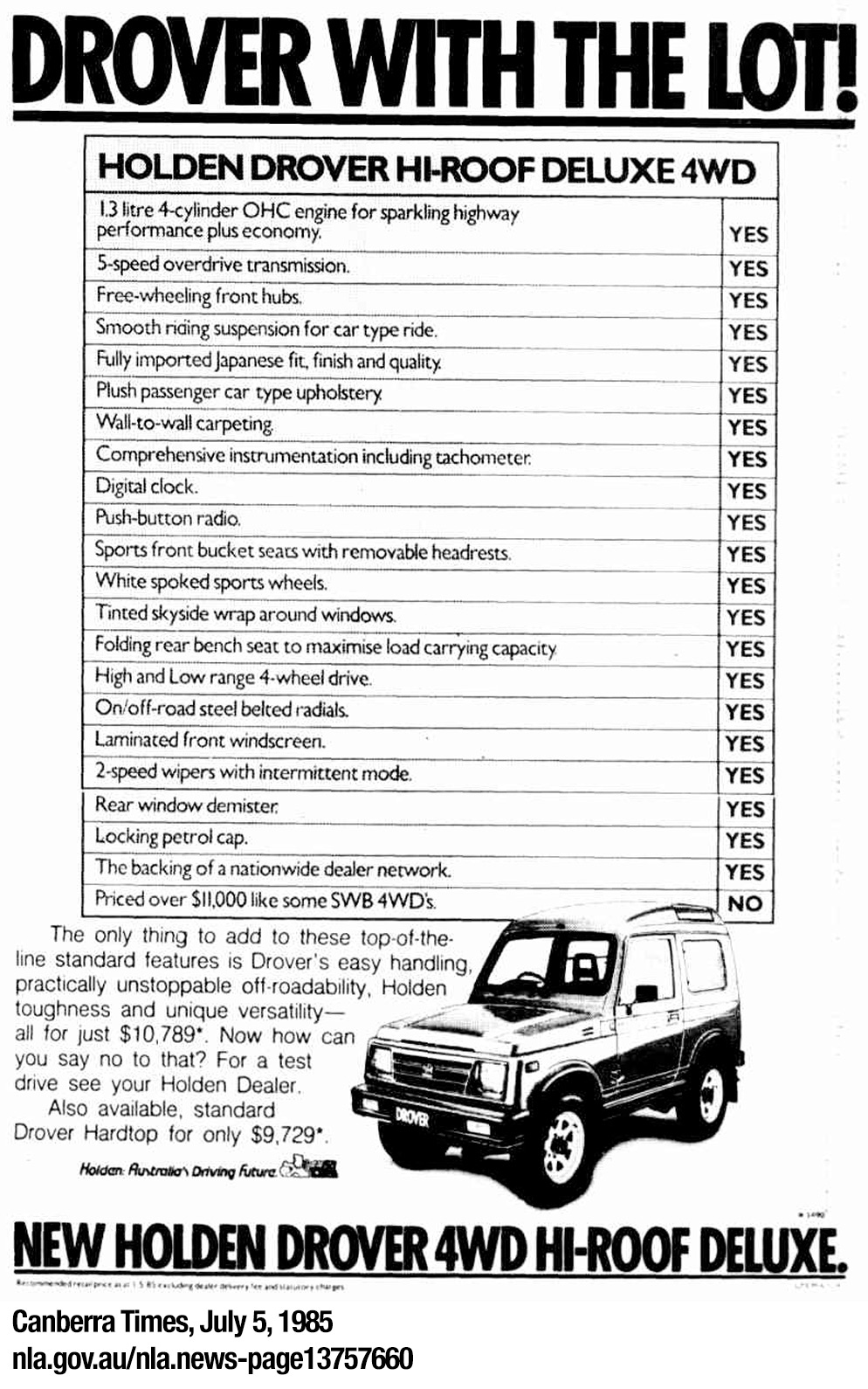 The Drover was dropped by Holden after a couple of years in later 1987, as per this mention within an article about the Barina – a rebadged Suzuki Swift.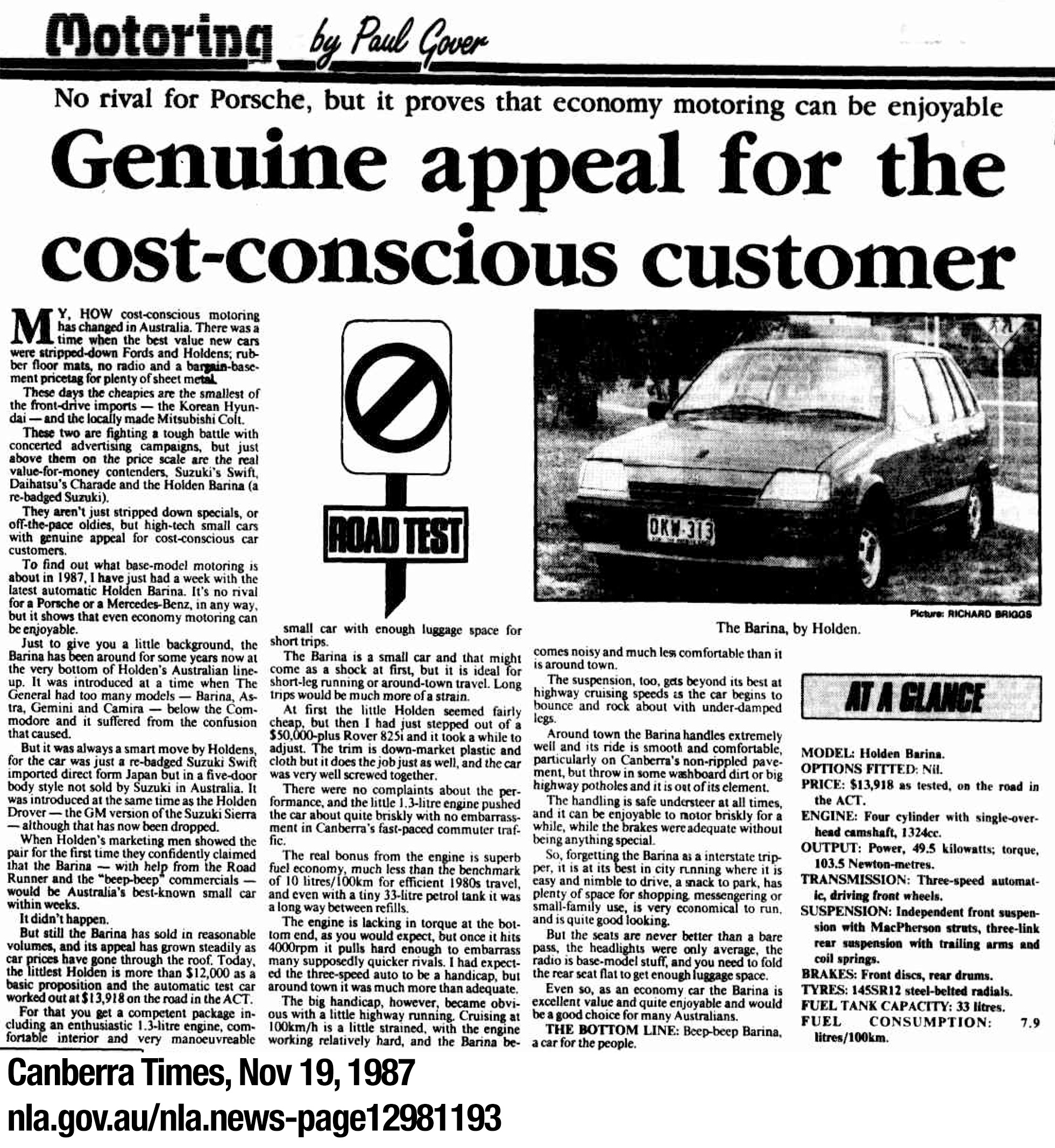 Although commonly associated with the US market and reports of small Suzuki 4wds toppling over at the slightly change of direction, clearly that safety factor was on the minds of other markets such as the UK who also tested it, and was reported back to Australia.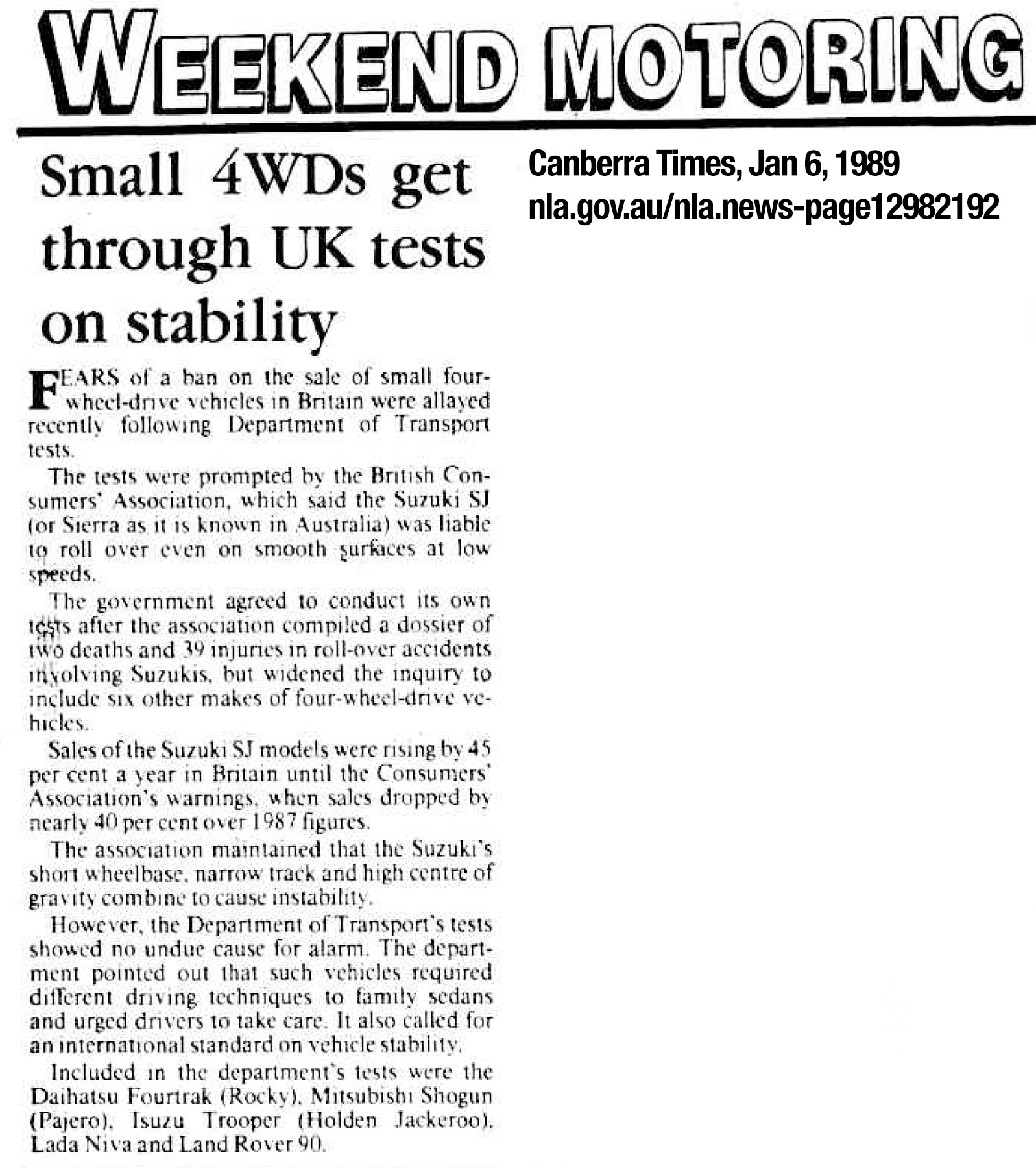 The Sierra was another sales hit, although I don't have definitive total model sales figures. In 1989, the Sierra (and the Vitara) accounted for nearly 5% of all 4wd sales. These numbers are unlikely to ever be reached within Australia but it's pretty incredible how well the Jimny captured the market in both generation 1 and 2 form.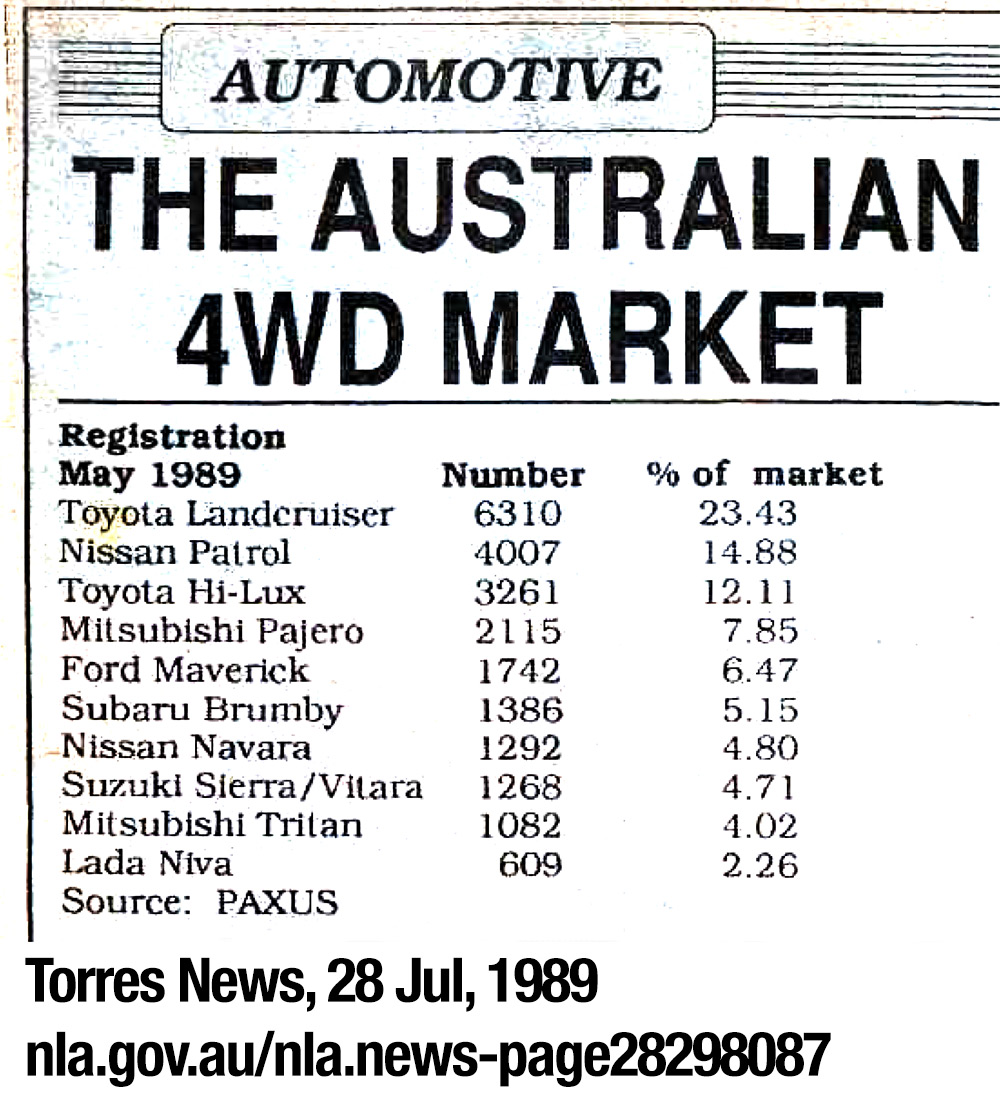 Coil-sprung comfort: revising the ride
The Sierra was revised late in its model in 1996 run to coil springs and a different 1.3L engine, which formed the basis of the 3rd generation to come in 1998.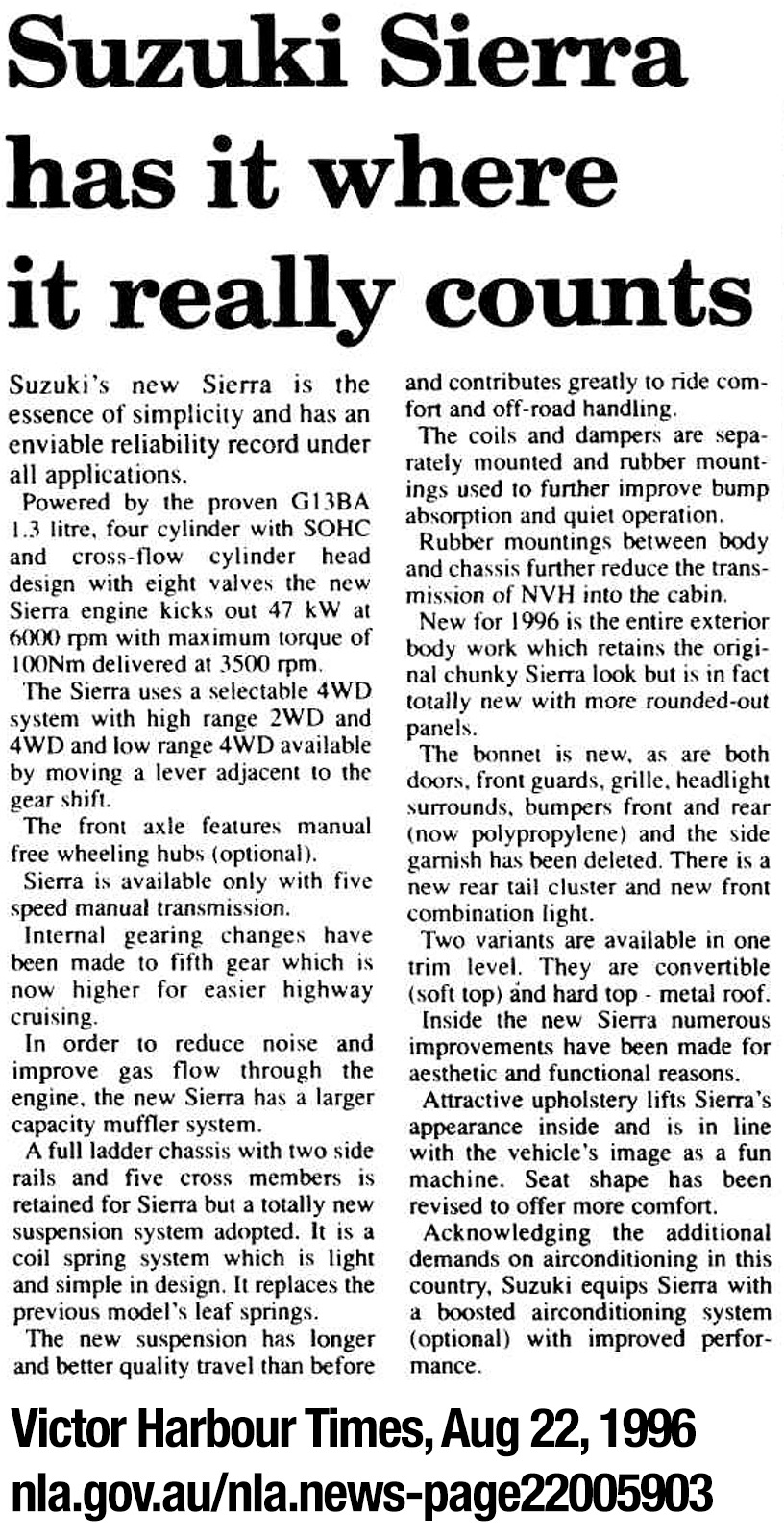 After a 17 year model run, the time had come for the 3rd generation small Suzuki 4wd to come to Australia.