2019 Jimny wheel/tyre upgrade info
Factory the Australian JB74W 2019+ Jimny wears 195/80-15 highway terrain tyres on 5.5″ alloy wheels. While I quite liked the look of the wheels, it is advantageous to swap the wheels out for more offroad suitable wheels and tyres if you plan to really use the car.
Benefits to swapping out the wheels for rugged steel wheels include lessening the chance of damage offroad and also steel wheels are more repairable when you smash one against a rock. Slightly wider and different offset wheels helps by giving you a tiny bit of extra track width as well. On a narrow car like the Jimny that really helps for stability on and off road.
The wheels I selected are fairly generic steel wheels in 15″ diameter, 6″ wide, +3 offset, 5×139.7 PCD. In Australia these would be called Sunraysias, and plenty of knockoff brand wheels exist. Mine are genuine Dynamic wheels, fitment chart for Sunraysia style wheels available directly from them.
Tyre wise the Bridgestone highway tyres are meant to be ok offroad, especially if you really lean on the offroad traction control stuff. I personally like to run all-terrain tyres and I've had great results with BFGoodrich tyres on other cars. Conveniently the BFGoodrich all-terrain KO2s come in an S rated tyre in about the right size for the Jimny so they were an easy choice.
Tyre size wise the easiest option is going to 215/75-15 tyres. These are a tiny bit taller than the factory ones but not enough that it's noticeable (roughly a 1% change in speedometer reading). Given the error on the factory speedo calibration that's perfectly acceptable.
Note that you will lose fuel economy going to heavier and bigger tyres. Another change is larger tyres will not fit under the factory soft spare tyre cover. I managed to just squeeze the factory cover over my 215s after they'd worn down a bit and I'd rotated the tyres around, but new there was no chance. Larger tyres again would be even harder.
A final change is to consider the change in the speedo reading. Likely going to larger tyres will fix the specific speedo reading, however, there's a small trick manufacturers play on us. They usually lie on the speedo and make it read more than the speed you're going, but these days with digital odometers and a number of wheel speed sensors for traction control, ABS etc usually the odomoter is correct distance wise. Most people seem to report the ~5% larger 235/75-15 tyres put their speedo exactly bang on, but bear in mind now your odometer (and hence fuel consumption as measured by the computer) will also be 5% worse. It's fine, but something to know about.
Sections
Tyre size table
Centering steel wheels
Tyre and wheel weights
---
Tyre size table
This table is designed so 'larger' tyres are to the right. It should give the info, at a glance, that are some of the key dimensions. Some of the alternative tyres for that size are not exactly the same size so don't rely on this for millimeteric perfection. Where there are multiples that I'd class as basically the same size, the calculations have been done based on the first size listed.
215/70-15
Stock
'215s'
Midway
'235s'
30s
31s
33s
Inch size diameter
26.9″
27.3″
27.7″
28.5″
29.0″
30.0″
31.0″
33.0″
Usual sizes
215/70-15; 205/75-15
195/80-15
215/75-15
215/80-15; 225/75-15
235/75-15; 235/70-16; 205R16
30×9.5-15; 245/75-16
31×10.5-15
33×12.5-15; 33×10.5-15 also common
Recommended wheel width & permissable range (ETRTO and/or Aus standard)
6.5″ (5.5 – 7″)
5.5″ (5.0 – 6.5″)
6.0″ (5.5 – 7.0″)
6.0″ (5.5 – 7.0″)
6.5″ (6.0 – 8.0″)
7.5″ (6.5 – 8.5″)
8.0″ (7.0-9.0″)
9.0″ or 8.0″ (8-10″, or 7.0-9.0″)
Diameter difference (% to stock)
-1.5%
0%
1.4%
4.2%
5.5%
9%
11.9%
17.3%
Crawl speed km/h (idle @ 800 rpm, 1st gear low)
Manual/Auto
2.85
3.15
2.9
3.2
2.94
3.24
3.02
3.33
3.06
3.38
3.16
3.49
3.25
3.58
3.40
3.75
Revs @ 110 km/h (actual, top gear)
Manual/Auto
3495
3395
3444
3345
3396
3298
3299
3205
3255
3161
3134
3044
3034
2947
2848
2766
Available torque @ 90 km/h (top gear) Manual/Auto
104 Nm
97 Nm
100 Nm
92 Nm
96 Nm
88 Nm
88 Nm
81 Nm
85 Nm
78 Nm
76 Nm
70 Nm
70 Nm
64 Nm
59 Nm
55 Nm
Available torque @ 100 km/h (top gear)
Manual / auto
127 Nm
123 Nm
125 Nm
119 Nm
122 Nm
116 Nm
116 Nm
108 Nm
113 Nm
105 Nm
103 Nm
95 Nm
94 Nm
87 Nm
79 Nm
72 Nm
Axle height change (lift over stock)
-5 mm
0 mm
+5 mm
+16mm
+21mm
+34mm
+47mm
+72mm
Will they rub?
No
No
No
Probably not
Not always, especially with a bullbar
Yes
Yes
Absolutely yes
Note: rubbing also depends on wheel fitment. Wider wheels for the same tyre size will generally result in a smaller overall diameter, plus wheel offsets come into it
---
Centering steel wheels
You see a lot of commentary that you can never get steel wheels balanced or centred correctly. One of the challenges on the Jimny is it has a very very very small centering ring on the front, designed for wheels with a centre bore of 108.0 mm. Most aftermarket wheels in 5×139.7mm stud pattern are for a more common 110.0 mm centre bore. Also note there is no centering at all on the back wheels, they are studcentric only.
The secret to getting things centered is to carefully tighten down the nuts, using the taper on the wheel nuts to centre the steel wheels. You should also do this on aluminium wheels, in fact, if you have aluminium wheels off centre e.g. on the back then you can ruin the taper in the wheels themselves.
Start by fitting the wheel up and hold it up just a bit off the studs. You'll note it's very much not centred by default with the studs way more to one side of the wheel holes to the others.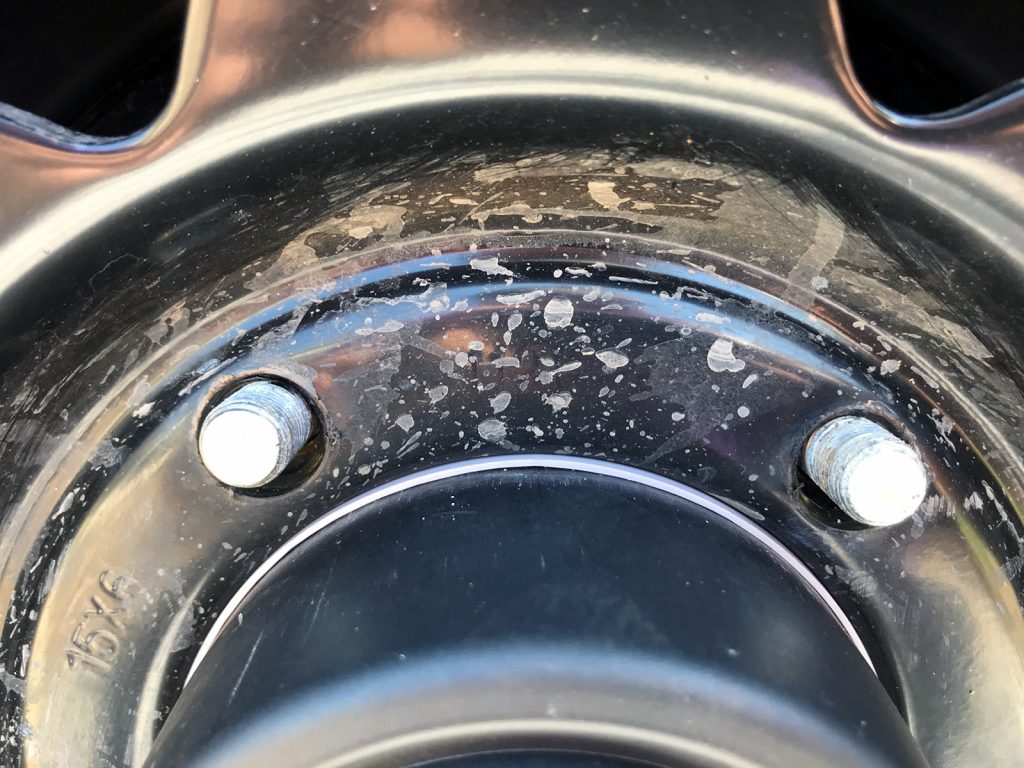 Start one wheel nut, and you'll note how it touches more on one side of the wheel hole than the other. This will help get the first stud centred.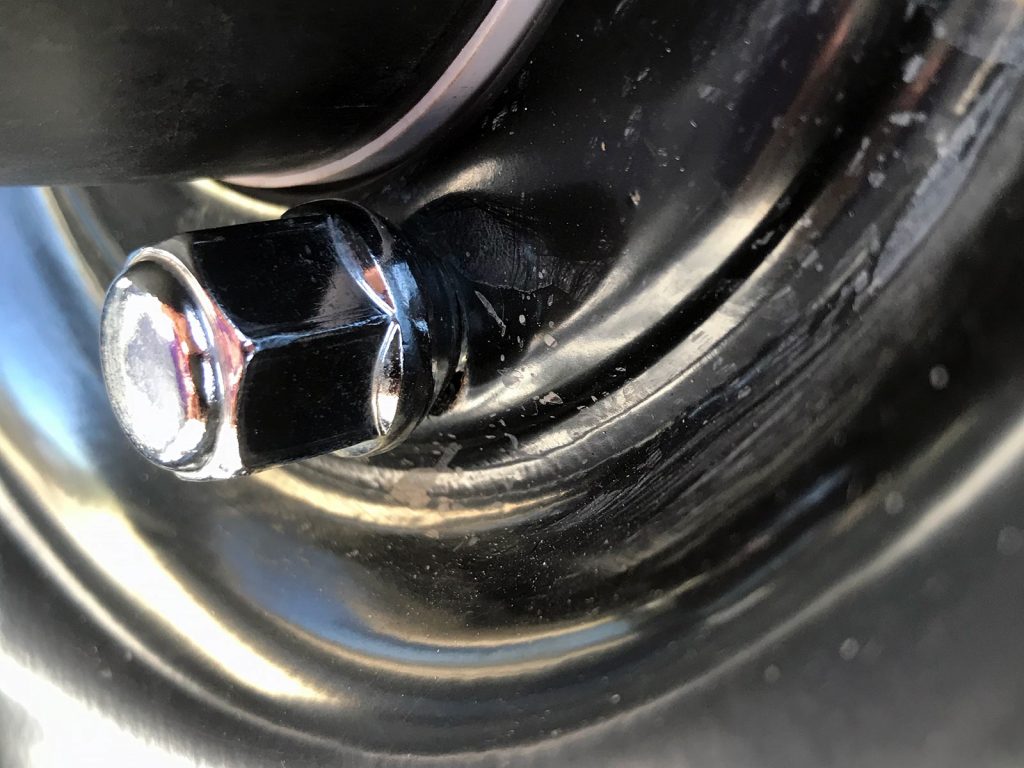 Once you get one nut sort of centred by hand, start an opposite nut; if you work back and forwards between a couple of opposing nuts and are careful you'll get it all centred.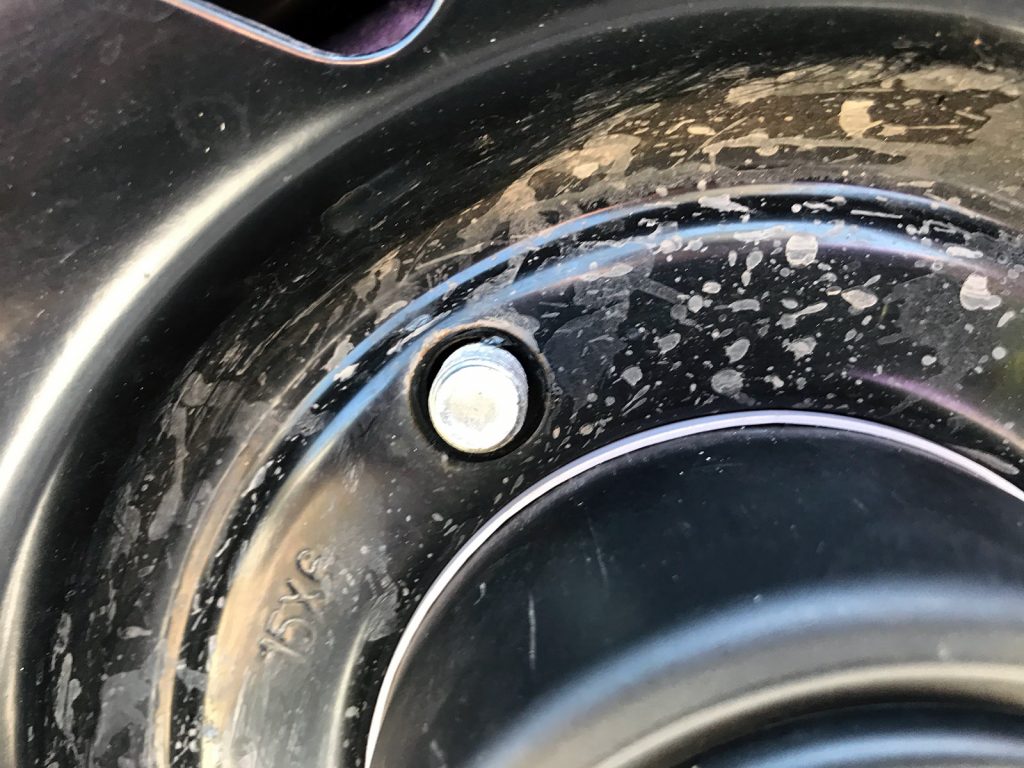 At that point tighten everything up to an appropriate torque. Remember to retorque the wheels after 100-200 km especially if they are new wheels when they will settle down a bit.
Fitting factory centre caps to aftermarket wheels
The other factor with aftermarket wheels having a larger centre bore than the Jimny runs is the factory centre caps for the wheels need some spacing. I used some plastic centering rings with to go from 108 to 110 mm and fitted them to the caps. This lets me run the factory caps in my wheels.
Painting the ends of your axles
If you've been driving around without the centre caps on the back for a while, or even in many cases if they are on, you might find your rear axle ends get a bit of surface rust on them.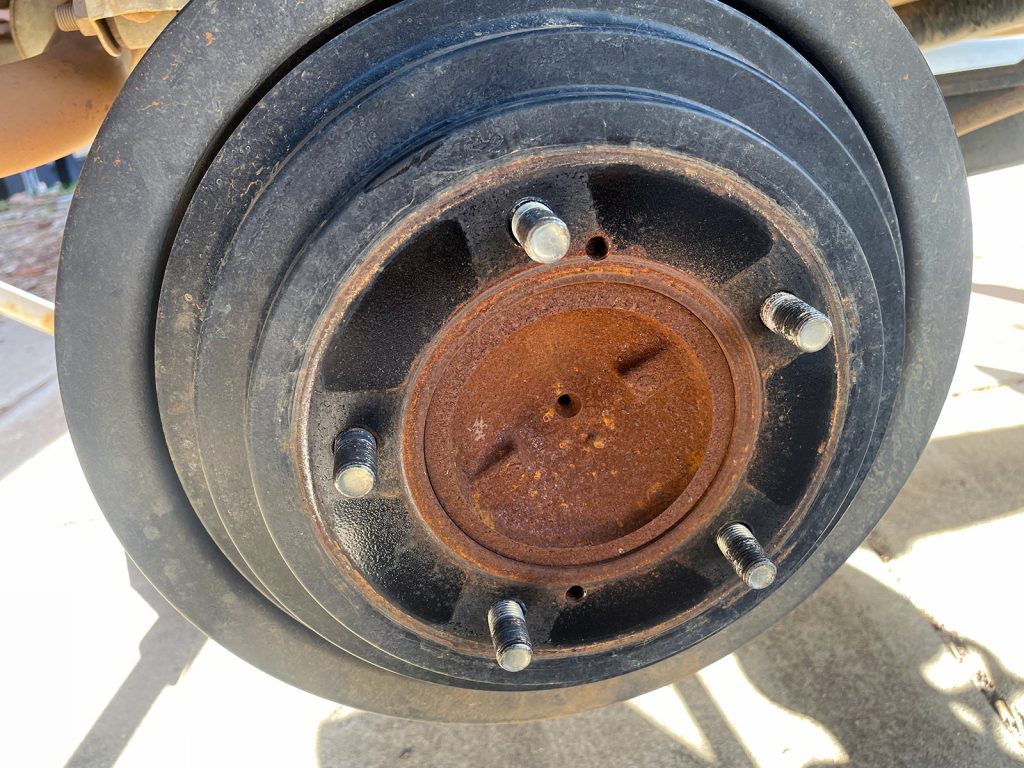 This honestly looks worse than it is, it's just very fine surface rust, but still a good idea to clean it up and treat it and stop it coming back.
A wire wheel is the best way to clean it up.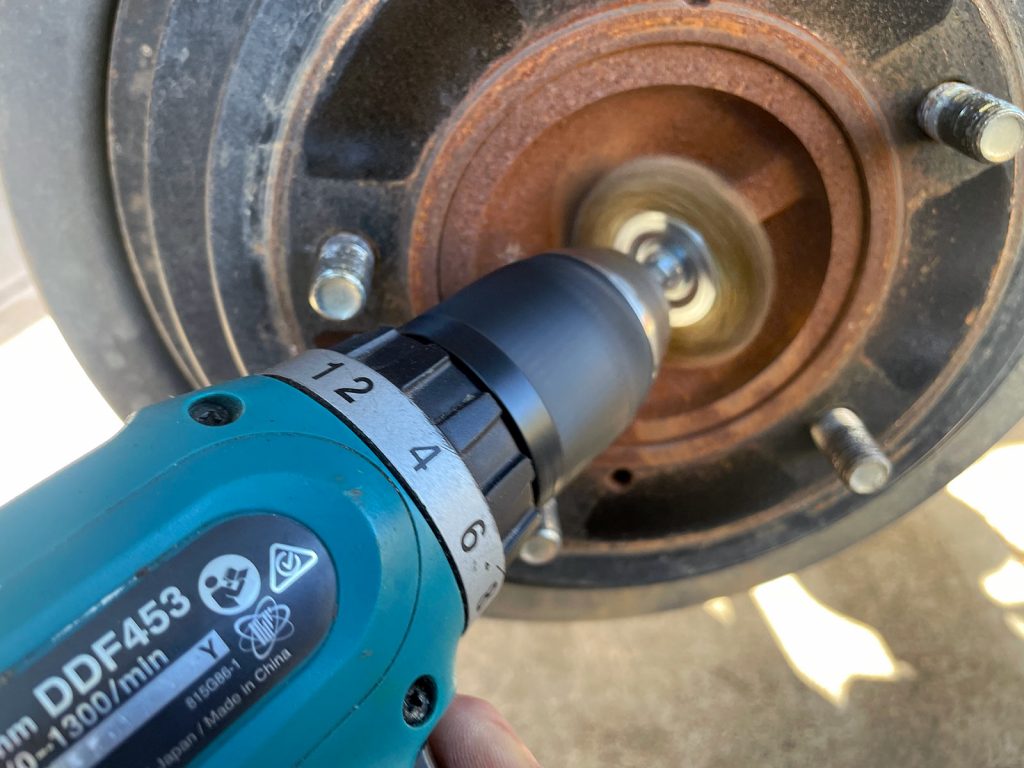 Then a bit of wax and grease remover and you're good to go, after masking up the brake drum and other parts of the car to avoid overspray.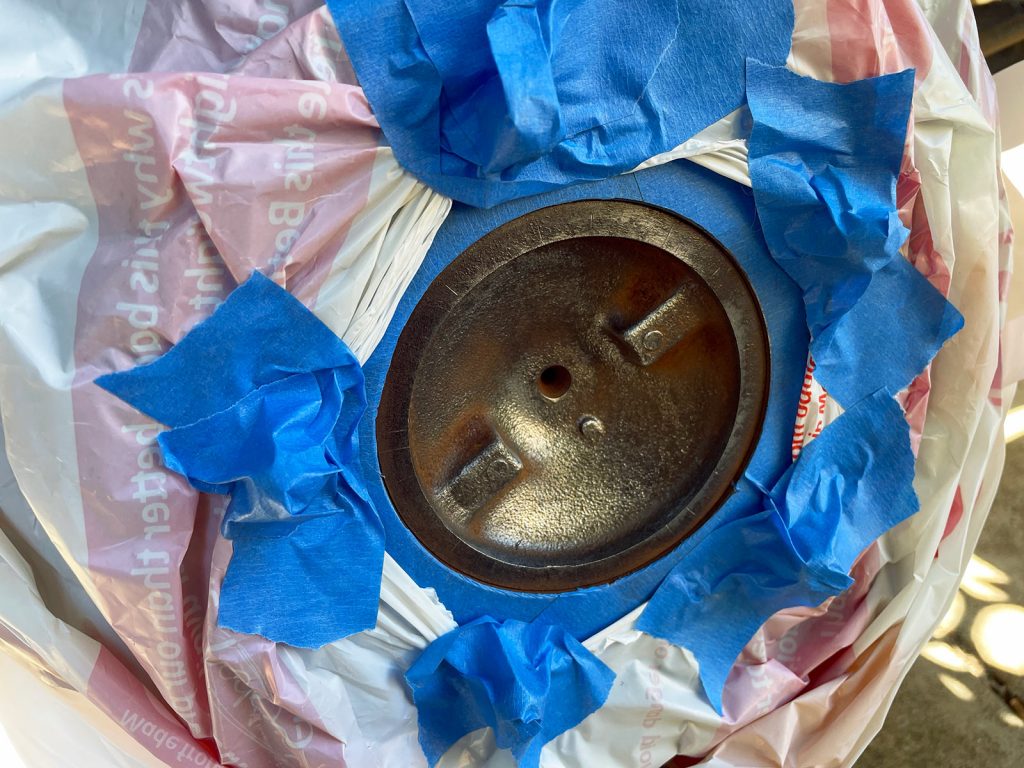 Use a good quality rust converter/treatment and then a rust preventing primer first for the best results here.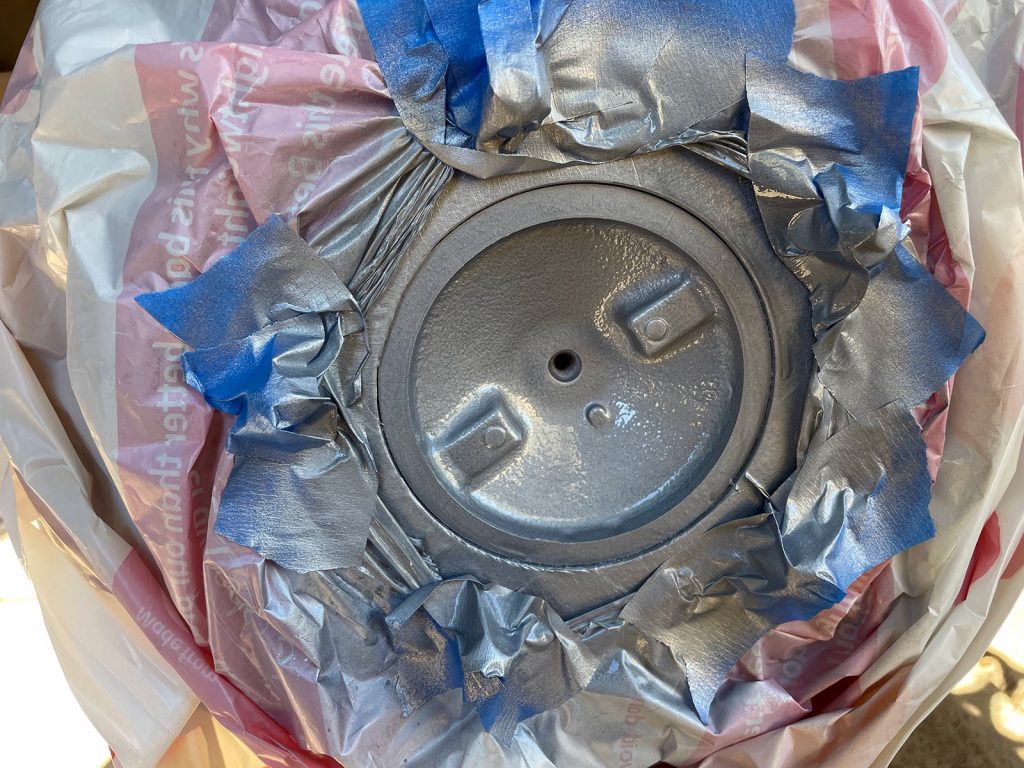 Then a nice top coat or two. I guess you could colourmatch this to your car if you were feeling fancy, but I went with plain ol' black.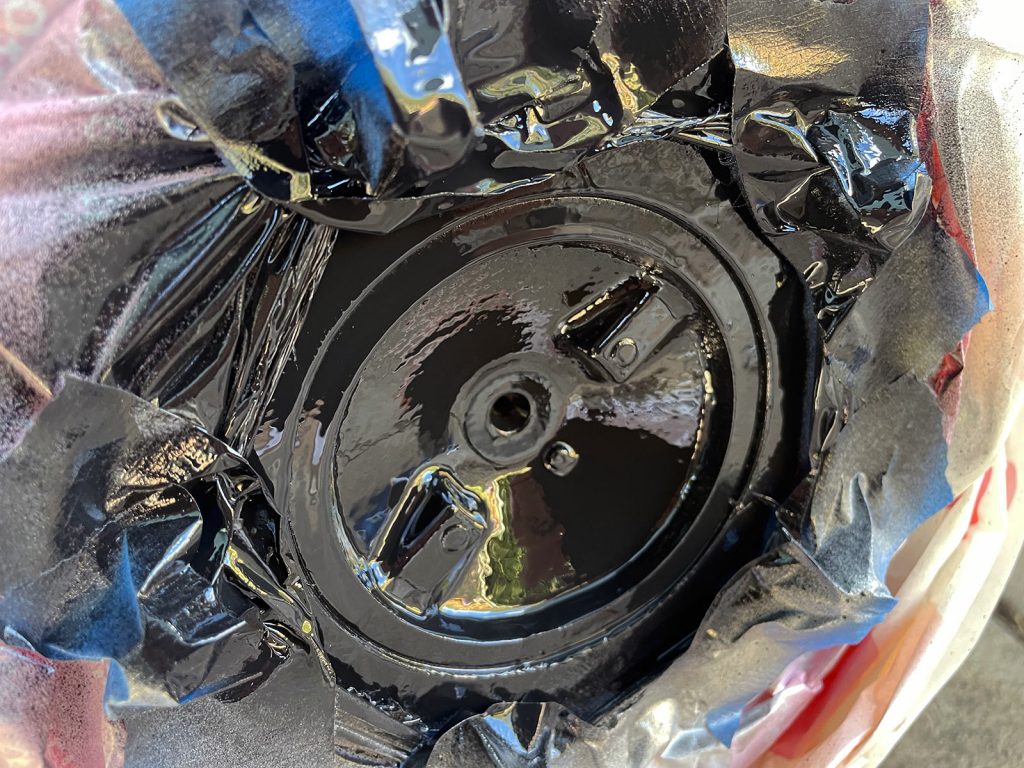 Peel back the masking tape, give a little clean out of the axle to drum interface with a thing like a sharp cutting blade, and you're done.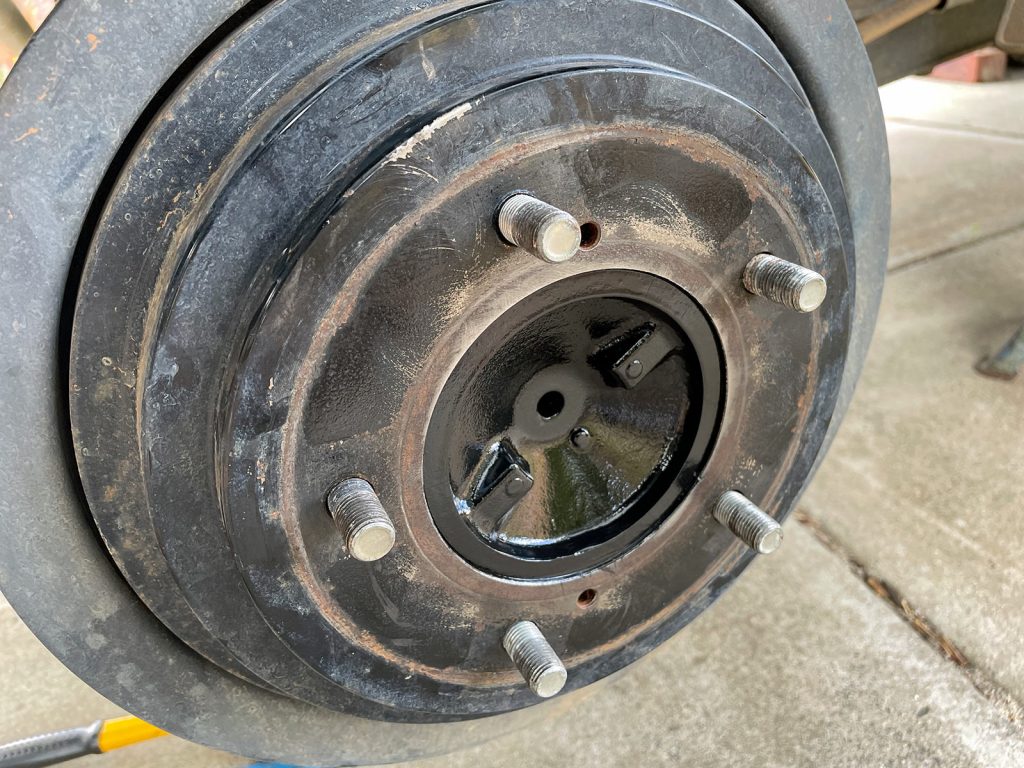 I guess you could paint the drum too but I've found people end up with wheels that don't sit straight when they do this.
Wheel/tyre weights
The weight for the BFG KO2 215/75-15 and also the 15×6 steels wheels comes in at 24.9 kg (54.9 lbs). The internet seems to suggest about 14.2 kg (32.1 lb), so each steel wheel is 10.7 kg on top of this.
Standard wheels and highway terrain tyres come in at 17.4 kg. Harder to find a weight for the standard Bridgestone Dueler H/T tyres but relying on a random person on the internet it seems 9.8 kg might be the number (21.6 lb). That's based on a call to Bridgestone Australia so I'll go with that for the moment. Add a comment to this article if you have more info!

Wheel weight
(kg, then lb)
Tyre weight
(kg, then lb)
Stock (17.4 kg)

7.6 (16.8)
9.8 (21.6)
Current setup (24.9 kg)
steel 15×6″ + BFG KO2 215/75-15
10.7 (23.6)
[+3.1 kg, 40% heavier]
14.2 (32.1)
[+4.4 kg, 57% heavier]
Wheel options
American Racing AR62 15×7 (alloy)
7.5 (16.5)
[-0.1 kg, -1.3%]
Rays ALap-J 16×6 (alloy)
4.8 (10.6)

[-2.8 kg, 37% lighter]

Apio WILDBOAR SR15 (15×6 -5; alloy)
~7.6 kg (~16.8)

[same]
EVOCorse DakarZero 15×7″ (specifies only a weight range)
8.8 to 9.5 kg (19.4 to 20.9 lb)
[1.2 kg to 1.9 kg, 15-25% heavier]

Tyre options
Toyo Open Country AT2 215/75-15
11.8 kg [+2 kg, 20% heavier]
Nankang FT-7 215/80-15
13.0 kg [+3.2 kg, 33% heavier]