JB74 Jimny ARB Summit bar winch adapter plate
The ARB summit bar for the JB74 Jimny is a pretty good bullbar. One challenge with it, though, is the winch mounting arrangement for it is set up for feet-forward winches that mount on the Warn 'standard' 254 x 114.3 mm mounting holes. Many lighter weight compact winches use smaller mounting patterns. Unlike other bullbars, there is limited scope to redrill the bullbar to accommodate these mounting holes. In addition, not all full footprint winches will fit, as the bar is relatively shallow at its back.
The problem: winch layout on the ARB bar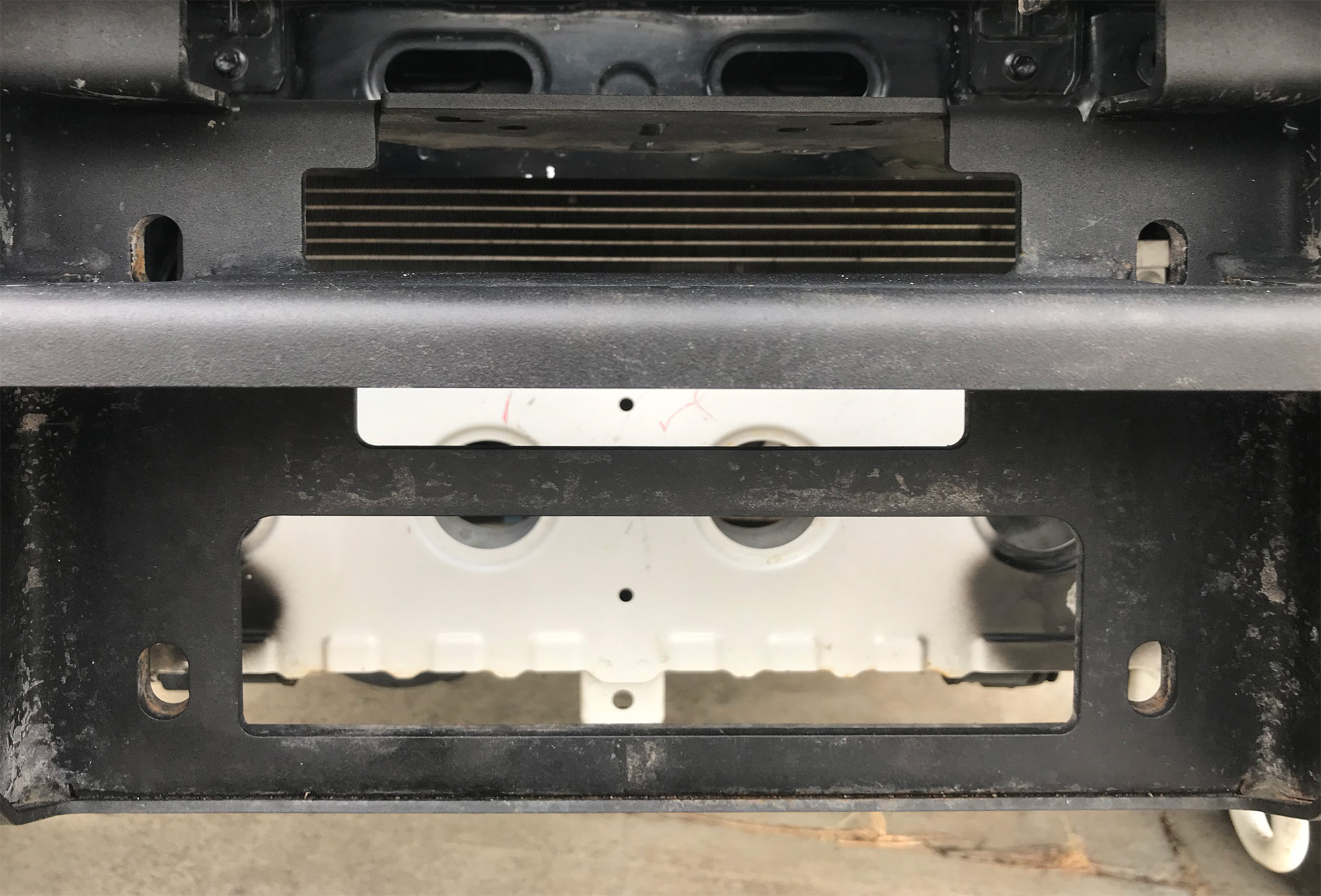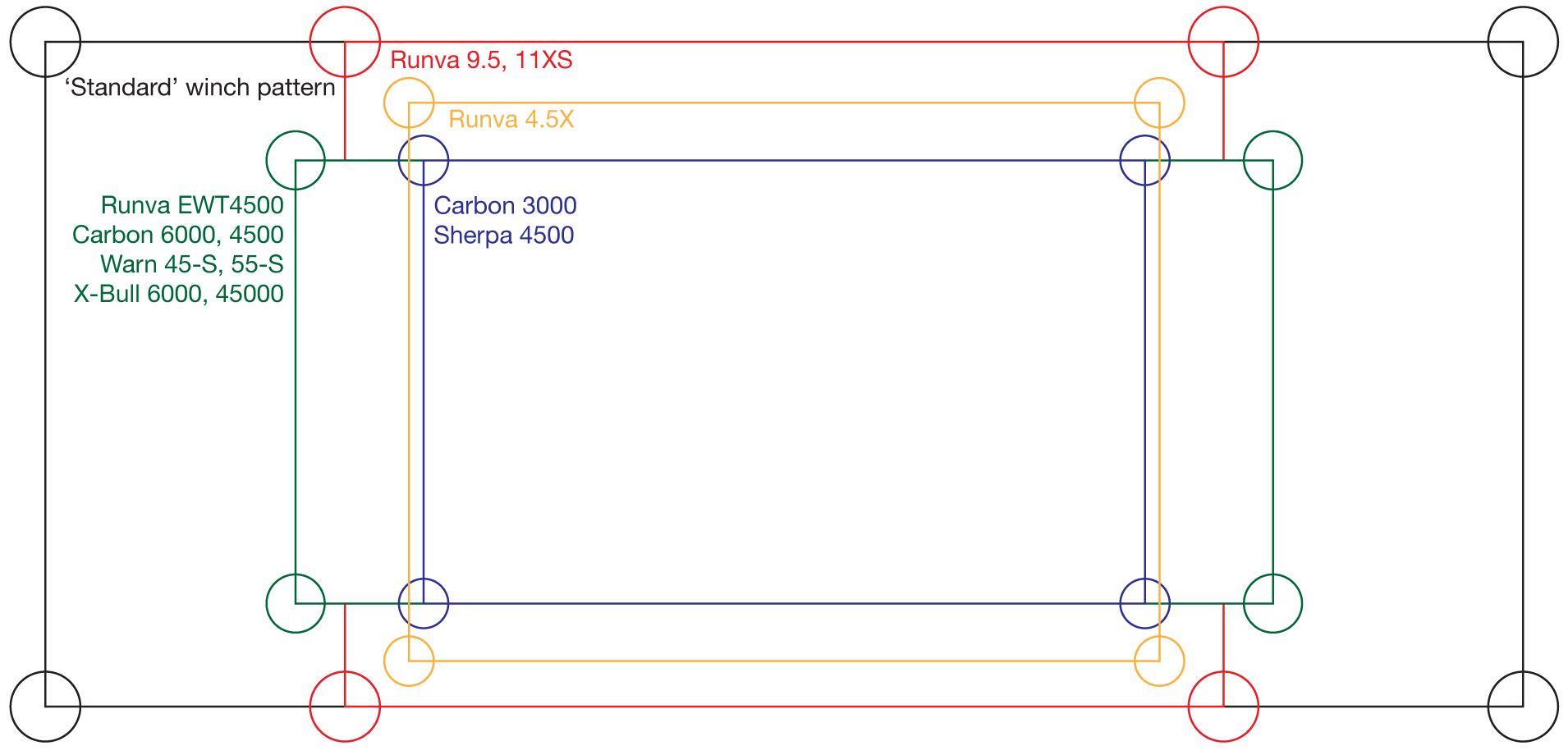 The problem becomes a bit more stark when you lay out these bolt patterns on the bullbar itself. The below photo isn't perfectly aligned for perspective but it gives a good idea about where the various bolt patterns land in relation to the cutouts ARB already provide. Note that behind a bit of the bar is some stiffening structure, too, it's not perfectly flat behind there either.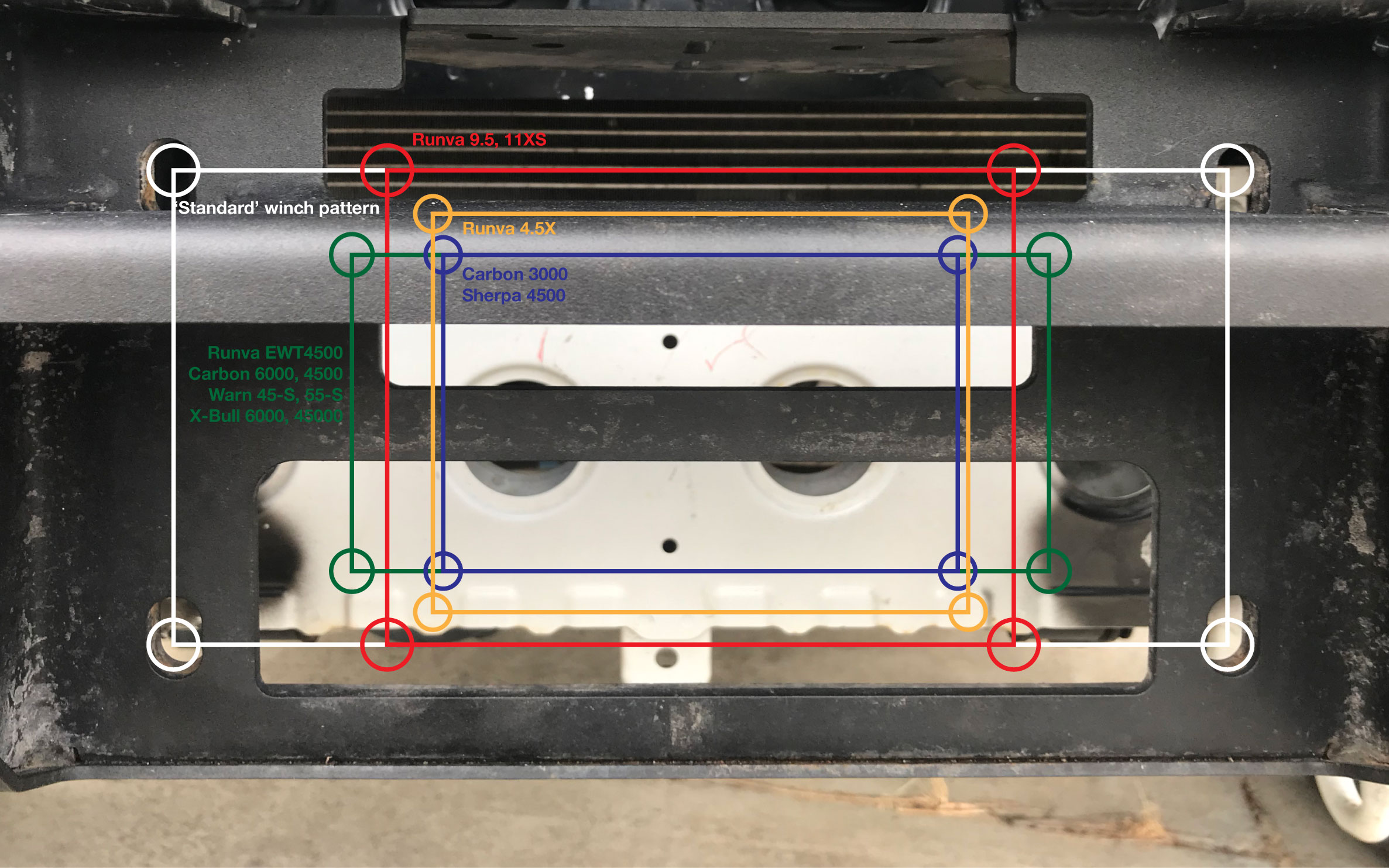 Below I've tried to catalogue the various winch options and where they fit. I've also provided my suggested layout as a PDF. If you print this 1:1 on an A4 printer, you can then use this to layout the adapter plate on some plate stock & make up your own adapter.
Another suggestion that people have used is a portable winch mounted wherever it's needed, but that's not what I've done so I can't claim any knowledge about what's the best option here.
---
Winches and adapter plate layout
These are ordered in decreasing footprint area
No adapter plate needed
(10 x 4.5″ or 254 x 114.3 mm mounting holes)
There are a lot of winches in this class, but notable ones that are lighter or not 'large' car capacity of ~12000 lb are as follows
Warn M8000
Warn Evo 10-S
Warn VR Evo 8-S
Sherpa Mustang (9500)
Runva
No need for an adapter plate here, obviously, but you will need to make sure the winch can physically fit in behind the bullbar.
Runva compact frame mounting holes
(151 x 114.3 mm or 5.94″ x 4.5″ mounting holes)
This is used by the Runva 9.5XS (discontinued) and 11XS winches. It is a narrower footprint but the same height as a standard winch mounting pattern. There's no capacity to do anything for placement here except biasing the cutout towards the lower part as that's where you'll more easily fit the fairlead. You can take away a fair bit of material to the sides with some holes to reduce the weight of the adapter plate.
Warn small footprint
(167.4 mm x 76.2 mm or 6.59″ x 3.0″; might be reported as 167 or 168 mm x 76 mm)
Warn Axon 55-S
Warn Axos 45-S
Runva EWT4500
Carbon 6000, 4500
X-BULL 6000, 4500
The lower height of this footprint means it is better aligned lower down on the mounting plate. In addition, sculpting out of the top section reduces weight further while also reducing the interference with the stiffening rib behind the upper part of the winch mounting area.
Runva ultra compact footprint
This is used by the Runva 4.5XS winch and that's all I could find. If it interests you as a winch then it limits your options if you want to swap to another small form factor winch.
Small winch footprint
(124 x 76 mm or 4.88″ x 3.0″)
Runva 3.5P
Carbon 3000
Sherpa 4500 ATV
---
Making a winch adapter plate
I've now made a few of these. I have made them both out of steel and also alloy. I'd recommend 8mm alloy plate. It's easier to work with and weight wise it's not hugely heavy: before you do any of the cutouts I weighed in my piece of 5038 plate at 890 g. Once you cut out the middle portion and other parts that can go you're probably looking at 500 g for the adapter plate itself. This means you're still well ahead of a larger framed (and heavier) winch.
First off, some details on cutting plate stock. If you're doing this with steel then you're best off using an angle grinder and a cutoff disc. Take your time to establish your lines and then cut your stock down to size as needed.
With aluminium plate you have more options. You can cut it with a jigsaw or a circular saw, or a bandsaw… or, if you're feeling really masochostic then cut it with a hacksaw. You can also use an aluminium cutoff wheel on an angle grinder, too.
With an adapter plate design in mind, mark it out on some appropriately thick metal plate by printing it out and gluing it onto your chosen plate. Potentially this is easiest if you first slightly trim the plate down. Just be sure to maintain some square edges when you do this to help lay everything out.