Tables
This is place where I discuss all things tables I've got/used with the Jimny. Random, but there's a lot of options out there to explore.
Sections
What I'm after in a table
Folding blow moulded table
Rear door table (I don't have this, but here's some info on them)
---
What I'm after in a table
There's a few things I'm after in a table. First and foremost – a solid top. Fabric/flexible tops are often lighter and cheaper, but for things like making coffee with an aeropress it's a lot trickier. I also find they can be more of a pain to clean and also prone to getting dust embedded in the fabric and then it's impossible to get out
Another thing I want is something that packs away well into places like my roof shelf. Space in the Jimny being tight means you should try to find stuff that will work with your chosen storage.
Lightweight is good, but not essential as you also want it to be stable and not liable to tip over.
I don't mind picnic height tables, but I'd prefer ones that are a bit easier to use with a camp chair rather than squatting on the ground.
Comparison table of my tables
| Table | Image | Cost | Weight | Packed size (l x w x h, cm) | Surface area (l x w) |
| --- | --- | --- | --- | --- | --- |
| Generic slat table | | $30-40 | 1 kg | | 35 x 41 cm = 1435 cm2 |
| Folding blow moulded table | | $60 | 4 kg | 103 x 45 x 5 cm | 66 x 46 cm = 3036 cm2 |
| Snow Peak stainless table + 2nd tier shelf | | ~$330 + $75 = $405 | 2.9 + 0.6 kg = 3.5 kg | 45 x 33 x 8 cm + 36 x 25 x 1 cm | 49 x 33 cm + 36 x 25 cm = 2517 cm2 |
| Nemo Moonlander | | $250 | 2.2 kg | 37.3 x 23.9 x 3.4 cm | 48 x 37 cm = 1776 cm2 |
| Helinox Cafe Table | | $400 | 3.8 kg | 65 x 61 x 6 cm | 60 x 60 cm = 3600 cm2 |
There are, obviously, plenty of other tables out there, but these (with the exception of the blowmould table) are the ones I think that best suit the Jimny.
---
Generic small camping table
Cost: ~$30-40; surface area: I x J cm; packs to: I x J x K cm; weight:
I bought this years ago via ebay as a "folding roll up camp table" and you can still see them with similar titles now via ebay/amazon/aliexpress. It is cheap and it works fine for a quick and easy table. The aluminium top works ok with my camp stoves and it's a good size for a morning coffee stop.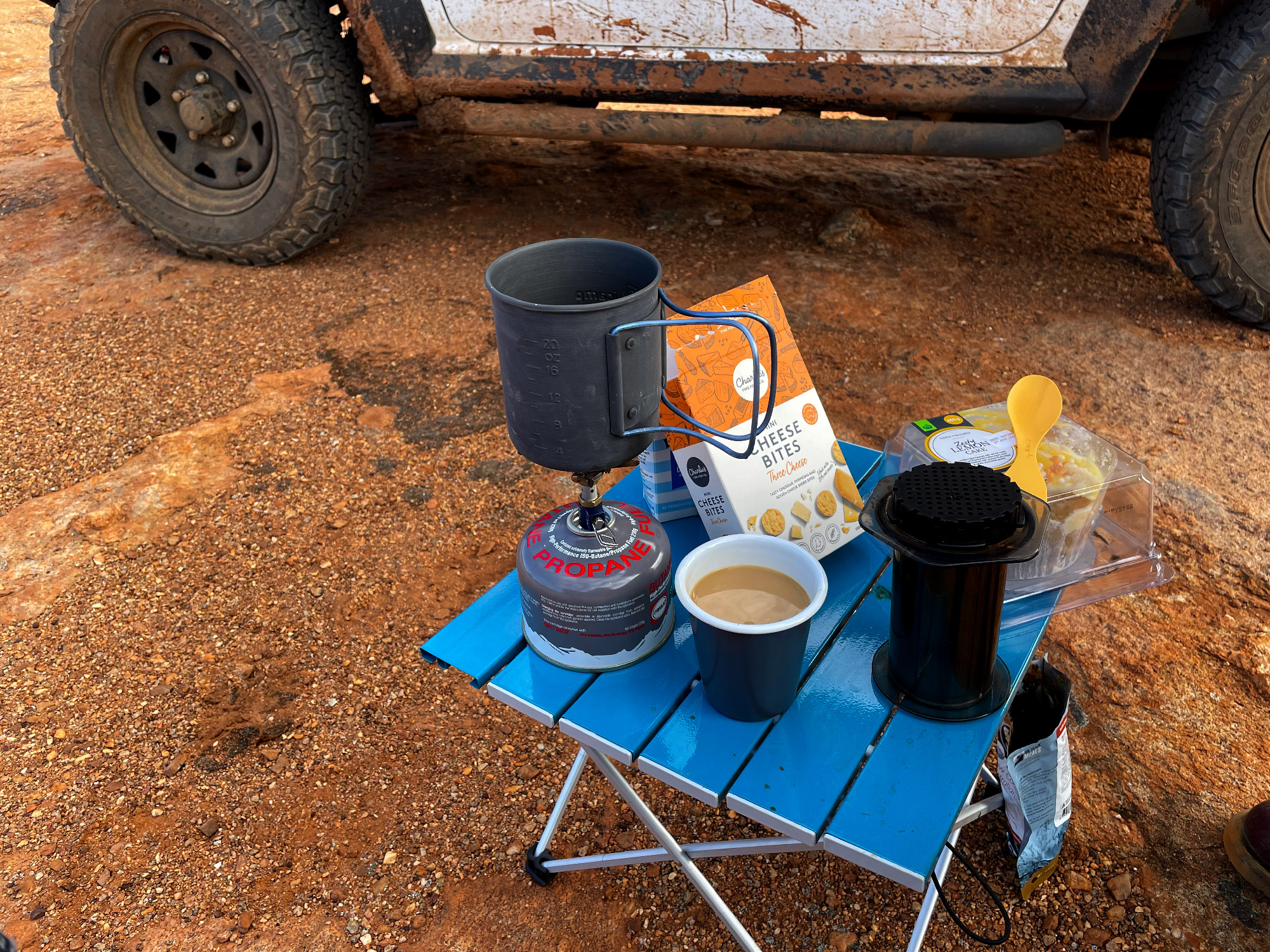 The legs are quite spindly so you wouldn't want to put too much weight on it, and they tend to dig into soft ground easily, but it is more stable than you might expect.
It packs down relatively small though kind of 'square' cross-section wise, so it's a little thick.
Pros: cheap (~$30-40); light; packs up small
Cons: limited surface area; not overly strong;
---
Folding blow moulded table
There are a variety of these kind of tables but the most Jimny-able one I have is a small blow moulded table. These are generic and available from many hardware and camping stores for around the $60 mark.
Pro: cheap; quick to set up; lots of space for the money
Cons: Not that light; kinda bulky to store somewhere; not ideal for hot things; somewhat unsteady
---
Snow Peak Stainless Takibi My Table
This is two parts: the first is the table itself, and the 2nd is using another Snow Peak part which gives you a 2nd shelf. It was not cheap (and with worse exchange rates – more expensive now as of writing in 2023) and it isn't that light, being stainless steel. Nevertheless this is the table I often use with the Jimny and other trips and I really like it. If you're on a budget then you can get more table for the money in other ways but nothing that quite combines everything like this does.
I really like the stainless used for it – easy to keep clean, and absolutely zero worries about cooking on it. It's also very sturdy.
Although it packs down quite small, the 2nd shelf is a bit of a pain to fit somewhere & the shape isn't conducive to packing in easily either. I can make it work but on something like the roof shelf it ends up with a bit of awkward wasted space underneath it.
Pros: quite a lot of surface area with the two levels; sturdy; very compact; my 'go-to' stop table.
Cons: not the cheapest option; doesn't pack up into the easiest shape to fit in somewhere; extra shelf is also a pain to store
---
Nemo Moonlander table
This one is a relatively new addition to the fleet of camping gear but I'm excited to try it. It's got less surface area than the 2 tiers of the Snow Peak table, but has quite a bit. You can have it at either a picnic height or a more normal height suitable for using with camp chairs.
The top is plastic and they do say not to cook or use fire on it. It seemed ok with my hiking stove on it, though.
Pros: very sturdy; two heights; packs into a very compact package
Cons: heavy for a plastic table; more limited area; slightly fiddly leg setup for taller setup
---
Helinox Cafe Table
This was primarily bought for other vehicles but it works quite well in the Jimny. Like many Helinox things it isn't the cheapest on the market but it is high quality, and, it's exceptionally strong and light weight especially given the size. People are confused when I whip it out on work trips given the size but it works great and gives a good sized table so it's soon forgiven for being a bit weird compared to a cheap blow moulded table.
It actually stores surprisingly well strapped to the bottom of the roof shelf. This makes it a very viable table to take in the Jimny, especially if you are camping with a few others and want a more generous table option.
Pros: lightweight for its size and height; high quality;
Cons: unsure about long term cooking on it; vulnerable top to damage in transport; people seem to struggle to work out the leg assembly
---
Things I don't have: rear door table
A lot of people have installed a rear door table on their Jimnys; I have had them on other 4wds and they're good. With how small the Jimny is, I prefer using this space for just storage. In addition, at camp I'm almost always going to want a table so I'd always have one for away from the car anyway.
There are lots of good commercial options for rear door tables, though one consideration is finding one that lets you adjust the level as the door is not level with the rest of the car: if you make it square across the back of the door then it's too high at the far end and if it's level then it'll be weird when you shut the door. Most of the higher end options now allow for this, but when first released only a couple did.
That said… as much as I'm sure some people will be confounded by the price of some of the options I'd have, commercial drop-down rear door tables are not cheap for the area they give you & you're confined to the car only with them.
Kaon table: 75 x 36 cm, $570
Seriously Suzi table (size not given, estimated): 85 x 40 cm $640
Legendex table (size not given, estimated based on their cutout dimensions): 80 x 40 cm, $695
For those prices you can buy multiple tables and have more prep area that's more flexible and still be ahead…
Some of the commercial rear door tables provide molle style attachment points, however, the issue is down to size: with the table folded down the pouches are undearneath and able to hit the door itself, so that limits you to the height of the pouches. Taking them off every time you'd use the table would suck, too.
Another consideration, if you're more price conscious and looking to DIY a rear door table: make sure to attach whatever you're using as the back plate firmly to the door. I recommend removing the back panel and using rivnuts in the trim clip holes. They don't need much enlargening to use M6 rivnuts. If you want to refit the factory plastic trim then they can be drilled out easily and the trim clips should still work. This is how most of the commercial options attach themselves but a lot of DIY options seem to just rely on some cheap tek screws and a lot of faith in sheet metal.
On the flipside of options out there for tables: people also often point towards things like the Front Runner table system (another 11 kg on your roof and $1200 lighter wallet) or the Kaon system to load a cheap Bunnings table underneath a Pioneer rack (so 8 kg table + 2 kg hardware for ~$350 total spend on top of the rack). These might suit you but I do still lean towards lighter, more compact setups that also overall just fit the Jimny better.